Voss and Trees will compete in state track meet
This article submitted by Joshua Jones on 6/2/99.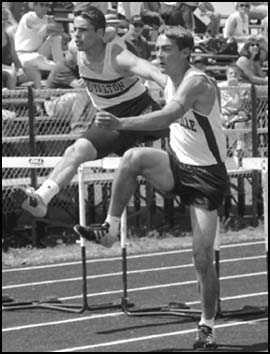 The Paynesville Bulldog boys' track team team headed for the Section 5A track meet in Melrose Thursday afternoon with high expectations.

In order to go on to the state meet, competitors needed to place first or second in individual events. In relays, only the winning team goes on. A participant may also go on if he or she meets the state standard for their event. This means their time or distance is good enough to qualify for the state meet.

Paynesville's Jeff Voss, far right, ran his way to fourth place in the 110-meter high hurdles. He also ran a state-qualifying time of 15.21. Voss also was third in the 300-meter hurdles.

Luke Trees also qualified for state. He jumped 6'3", which is the state standard for the high jump. This was good enough for fourth place in the section.

The two seniors on the team didn't advance but did very well. Troy Wendlandt participated in both hurdle races. He tried his hardest but fell short to some brilliant competition. Troy will be missed next year as a captain, leader, and friend.

Senior Josh Jones nearly advanced. In the triple jump he broke his own school record, now at 42'2". This, however, was enough for only fifth place. In other sections around the state, this distance would have won the triple jump easily. Incredibly, there were five jumpers that went over 42' in the section meet. Jones also competed in the long jump.

Clayton Lang took fifth in the 1,600-meter run and took sixth in the 3,200-meter run. Clayton ran as fast as he could but the competition beat him out.

Adam Utsch participated in the 3,200-meter run. Utsch ran his legs off but also didn't have enough in him to make it on to state.

Steve Flint was in the shot put but did not throw as well as he did in the sub-section meet.

Josh Bork also threw very well in the discus but didn't quite make it to the finals.

Nic Glenz, just a freshman, competed in the pole vault. He made 10'0", which was close to his best, but not good enough to move on.

Eric Rausch was in the 400-meter dash but didn't do as well as he would have liked. Rausch tried his best but didn't advance either.

Paynesville's 1,600-meter relay team of Rausch, Trees, Voss, and Jones came in third. They were hoping to have a state qualifying time, but ran it the slowest they have all year. Other people also complained about very slow times leading to speculation that the track is actually too long. It seems highly unlikely that everyone ran at least two to three seconds slower than at the sub-section meet.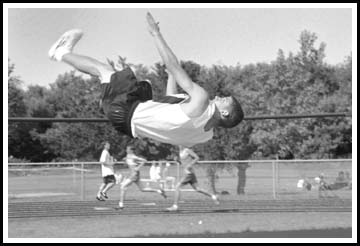 Congratulations on a great year everyone. The state meet will be held in Blaine this Friday and Saturday, June 4 and 5, at the National Sports Center.
Voss will run in the 110-meter high hurdle preliminary heats at 4:15 p.m. on Friday. Should he advance, the finals will be at 12:35 p.m. on Saturday. The high jump competition for Trees (pictured at left) will begin at 10 a.m. on Saturday.
Individual results
110-meter hurdles: Jeff Voss, fourth, 15.21;
3,200-meter run: Clayton Lang, sixth, 10:51.19;
1,600-meter relay: Paynesville (Eric Rausch, Josh Jones, Voss, Luke Trees), third, 3:37.25;
300-meter hurdles: Voss, third, 41.45;
High jump: Trees, fourth, 6' 3";
Triple jump: Jones, fifth, 42'2";
1,600-meter run: Lang, fifth, 4: 55.33
---