Three PAHS male tracksters - sophomore Aaron Bachman, junior Matt Mehr, and senior Chad Wyffels - qualified for section track by placing in the top four individually at subsections last week.

Wyffels placed second in the 800-meter run in the Dogs' highest subsection finish at Annandale on Wednesday, May 26. Bachman placed third in the pole vault and fourth in the 300-meter hurdles. And Mehr was third in the 3,200-meter run and fourth in the 1,600-meter run.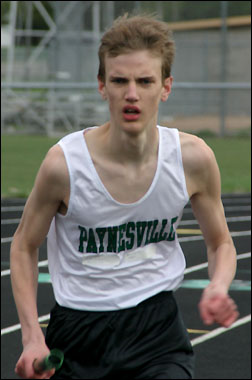 Wyffels is advancing to sections for the second straight year, but in a new event. Last year he qualified individually in the 300-meter hurdles (as well as in two relays). Bachman and Mehr qualified for sections for the first time.
Junior Matt Mehr qualified for sections in the 3,200-meter run and the 1,600-meter run.
Aaron, Chad, and Matt had great days, said coach Darrel Carstens. Several other young athletes also had good performances, he added.
Four Dogs just missed qualifying for sections, finishing fifth individually. Senior Derek Burris was fifth in the shot put (just two inches ahead of junior Josh Binsfeld in sixth). Senior Lee Fuchs-Thielen was fifth in the triple jump (five inches out of fourth). Senior Scott Millner was fifth in the 300-meter hurdles (one tenth of a second behind Bachman). And ninth grader Dugan Flanders was fifth in the 3,200-meter run (five seconds behind fourth).
The Dogs also had two relays that finished fourth (two places away from advancing): the 1,600-meter relay (Wyffels, sophomores Sean Glenz and Keith Klein, and Millner) and the 3,200-meter relay (Glenz, juniors Jason Wendroth and Chris Utsch, and Flanders).
Bachman, Mehr, and Wyffels competed at the Section 5A meet at St. John's University on Wednesday, June 2. The top two individuals, the top relay, and anyone meeting the state standards will advance to the state meet next weekend in Blaine.
Team Scores
1. Annandale 173
2. ACGC 157
3. NL-S 105
4. Maple Lake 104
5. Paynesville 68
6. EV-W/Kimball 48
7. BBE 38
Individual Results
110-meter hurdles: Aaron Bachman, seventh, 18.6;Scott Millner, eighth, 18.7;
300-meter hurdles: Bachman, fourth, 44.6; Millner, fifth, 44.7;
800-meter run: Chad Wyffels, second, 2:08.3; Sean Glenz, eighth, 2:14.8;
1,600-meter run: Matt Mehr, fourth, 5:01.8;
3,200-meter run: Mehr, third, 11:15.1; Dugan Flanders, fifth, 11:21.1;
400-meter relay: Bachman, Keith Klein, Bill Thompson, and Lee Fuchs-Thielen, sixth, 47.7;
800-meter relay: Bryce Fischbach, Klein, Alex Jewell, and Thompson, seventh, 1:43.5;
1,600-meter relay: Wyffels, Glenz, Klein, and Millner, fourth, 3:46.4;
3,200-meter relay: Glenz, Jason Wendroth, Chris Utsch, and Flanders, fourth, 9:24.5;
Shot put: Derek Burris, fifth, 38' 10"; Josh Binsfeld, sixth, 38' 8";
Triple jump: Fuchs-Thielen, fifth, 37' 5";
Pole vault: Bachman, third, 10' 6".
---
Contact the author at paypress@lkdllink.net • Return to Sports
Home | Marketplace | Community
---