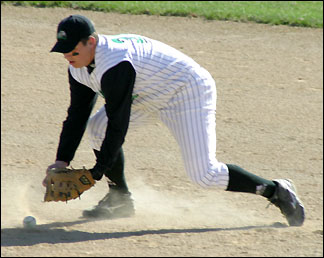 Two homers powered the Dogs to a 10-0 victory over Minnewaska, helping the baseball team finish the regular season with a record of 16-4.

Senior Adam Kampsen hit a two-run homer in the first inning - his 12th of the season - to give the Dogs the early lead, and junior Justin Butkofski hit a three-run homer in the fifth inning. The Dogs scored six runs in that inning to invoke the ten-run rule and end the game after five innings.

Junior Justin Butkofski - shown fielding a grounder at first - hit a three-run homer in the fifth inning as the Dogs beat Minnewaska 10-0.

Junior Chris Beier threw a three-hit shutout over five innings for the pitching victory.

After Kampsen gave the Dogs an early lead, Beier hit a sacrifice fly and senior Adam Hemmesch hit a two-out RBI single in the third inning to increase the lead to 4-0.

In the fifth, the Lakers committed two errors before Butkofski homered, giving the Dogs a 7-0 lead. The Dogs scored three more runs in the inning without another hit, using three more Laker errors (they committed five errors in all in that inning) and two walks.

The Dogs, seeded #1, started district playoffs on Wednesday when they hosted #8 Kimball. This game was rained out on Tuesday. The Dogs are aiming for a third consecutive district title.

District semifinals will be held on Thursday in Maple Lake. The district finals will be held on Friday in Maple Lake starting at 7:30 p.m.

The district champion and the district runner-up will advance to the Section 5AA tournament next week. The first round of section playoffs will be held on Monday, June 7, at Faber Field in St. Cloud. District 17 and District 20 runners-up will play at 5 p.m., with the loser being eliminated, and the district champions will play at 7 p.m.

On Tuesday, June 8, the winner of the runners-up game will play the loser of the champs game at 7 p.m.

The Section 5AA final will be held on Thursday, June 10, starting at 5 p.m. Two games may be necessary. If the undefeated team loses the first game on Thursday, a second game would follow the first game.
| | | | | | | |
| --- | --- | --- | --- | --- | --- | --- |
| Minnewaska-- | 000 | 00x | x | - 0 | 3 | 5 |
| Paynesville-- | 202 | 06x | x | - 10 | 6 | 0 |
Minnewaska - Batting: Lach Lagred 1-1; Joseph Heidelby 1-2; Derek McIver 1-3; Pitching: (ip-h-r-er-bb-k) Tyler Toop (L) (3-5-4-4-3-0).
Paynesville - Batting: Adam Kampsen 2-3 HR R-3 RBI-2; Justin Butkofski 1-3 HR RBI-3; Adam Hemmesch 1-1 RBI R BB-2; John Hemingson 1-2 R; Derek Stanger 1-2; Pitching: (ip-h-r-er-bb-k) Chris Beier (5-3-0-0-3-6).
---
Contact the author at paypress@lkdllink.net • Return to Sports
Home | Marketplace | Community
---