Getting a hole in one is supposed to be a once-in-a-lifetime event.

Ron Fuchs joined an exclusive club at Koronis Hills Golf Course on Friday, May 19, recording his second hole in one at the course.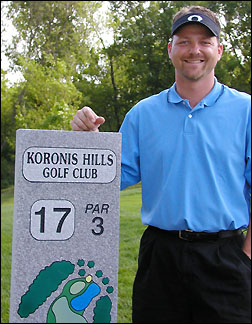 According to club records, only eight golfers have gotten multiple holes in one at the course: Chuck Chesness (2); Fuchs (2); John Janotta (2); Mark Mackedanz (2); Mike Nehring (3); Mike Pauly (2); Bob Ruprecht (2);Jim Loomis (2); and Joe Voss (3).
Fuchs got his second hole in one on the par-3, 162-yard #17 during Couple's League. From the middle tees, with the pin in the front left, Fuchs hit a nine iron right at the flag. The ball landed, hopped once, and hopped again just before going into the cup.
Fuchs was playing with his wife Michelle and Chris and Missy Stanley. He and Chris saw the ball fly towards the green and go into the hole. Their wives did not see the shot but heard the commotion from Ron and Chris celebrating.
Getting a hole in one on #17 was awesome, said Fuchs, because of the view. "I stood there for four seconds and watched it. I saw it on line and said, 'Be the right club,' and it was," explained Fuchs, who teaches at Paynesville Area High School and is in his second year as the varsity golf coach.
Fuchs got his first hole in one on #4 in June 2001 playing a scramble after Men's League, but it was so dark that group could barely see his shot and thought it had gone in but weren't sure until they found the ball in the cup.
Fuchs also used a nine iron for that hole in one, but he has switched clubs since then. He might need new clubs again, because now he wants to ace the other par-3s at Koronis Hills: #7, #10, and #13.
---
Contact the author at editor@paynesvillepress.com • Return to Sports
Home | Marketplace | Community
---