Junior Marissa Mackedanz placed sixth individually at the north subsection golf meet at Becker on Monday, May 22, and qualified for the section meet for the second year in a row.

The Section 5A meet was held at Rich-Springs Golf Course on Tuesday, May 30. The top five individuals - as well as the winning team - will advance to state.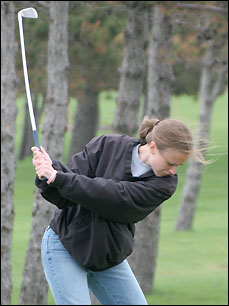 Mackedanz, who earned All Conference honors for the second straight time this year, also qualified for section golf for the second time. She shot 87 on the par-72 course at Becker and placed sixth overall. Once the team participants were subtracted, she was fourth among the individual section qualifiers.
Junior Marissa Mackedanz qualified for sections in golf for the second straight year, shooting 40 on the back nine at subsections, including five consecutive pars, to finish sixth individually with an 87.
After shooting 47 on the front nine, Mackedanz shot 40 on her second nine to earn a section berth. Five straight pars on the back nine sealed the section trip, said coach Ron Fuchs. "She has a great personality for golf," said Fuchs. "Marissa never gets too high or too low emotionally, and that is important to have if you are going to be successful in golf. She puts a lot of time and effort into this sport, and she definitely deserves to be advancing to sections. I wouldn't be surprised to see her advance onto the state tournament."
The West Central Conference North dominated the meet with the top two teams - Albany and St. Cloud Cathedral advancing to sections - and five of the top six teams. The Dogs finished ninth at the meet, four strokes behind Browerville.
Of the ten individual section qualifiers, seven were from the WCC North, and another five individuals from Albany and Cathedral would have cracked the top ten individually had they not qualified for sections as part of their teams. Senior Amber Jensen just missed qualifying for sections individually, shooting 101 and missing the last spot for sections by two strokes. She qualified for sections individually last year.
Junior Cassandra Olmscheid shot 119, and sophomore Meghan Doll shot 120 to complete the Dogs' team score.
The Section 5A meet was held on Tuesday at Rich-Spring Golf Course between Richmond and Cold Spring. If Mackedanz finishes in the top five individually at sections, she would qualify for the state meet next week. The Class A state meet will be held at Izaty's Resort near Onamia on Wednesday, June 7, and Thursday, June 8.
Team Scores
1. Albany 368
2. St. Cloud Cathedral 378
3. Sauk Centre 384
4. Pierz 398
5. LPGE 399
New London-Spicer 399
7. Litchfield 402
8. Browerville 423
9. Paynesville 427
10. Melrose 433
11. Eden Valley-Watkins/Kimball 441
12. Milaca 442
13. Foley 473
14. St. John's Prep Inc.
Individual Results
Paynesville - Marissa Mackedanz (6) 87; Amber Jensen 101; Cassandra Olmscheid 119; Meghan Doll 120; Karla Leitzman 141; Natasha Fangmeier WD.
---
Contact the author at editor@paynesvillepress.com • Return to Sports
Home | Marketplace | Community
---