The PAHS boys' track team advanced three of its members to the Section 5A meet, which will be held on Wednesday, May 31, at St. John's University.

Senior Aaron Bachman, junior Dugan Flanders, and ninth grader Nathan Friederichs all advanced by placing in the top four individually at the subsection meet, which was held at PAHS on Wednesday, May 24.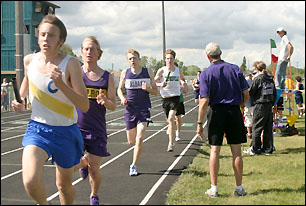 Bachman won the pole vault by clearing 12 feet, and Friederichs took third by clearing 11 feet.
"Aaron looks real good and has just missed making 12' 6" several times," said coach Todd Spanier. "If he can clear that height on an early vault, he has a good chance of advancing (to state)."
Friederichs topped his personal best, which was 10' 6" at subsections last year, to advance to sections this year.
Ninth grader Nathan Friederichs (running in the fourth-place 3,200-meter relay) is one of three PAHS boy trackers to qualify for sections. He placed third in the pole vault.
One of the team's goals this year, noted Spanier, was to advance some members to sections, which the team did not do last year. In order to do this, the Dogs did not field a full lineup at subsections, trying to give members their best shot at advancing, said Spanier.
Flanders also placed third in the 3,200-meter run to advance to sections. "Dugan's success is based on his hard work," said Spanier. "He doesn't really have the build of a distance runner (being so short and short legs), and so when he gets on the track, he just runs hard to wear out some of the runners early in the race."
Flanders and Friederichs also ran on the Dogs' 3,200-meter relay - with ninth graders Kody Nehowig and Jamison Wall - which placed fourth. The Dogs' 400-meter relay - junior Curt Forster, eighth grader Kohl Nehowig, junior Aaron Burris, and ninth grader Travis Jimenez - and its 800-meter relay - Burris, Kohl Nehowig, Jimenez, and sophomore Alex Svejkovsky - both placed fifth.
The Dogs had five other individual placers: Burris, sixth in the high jump; Svejkovsky, seventh in the discus (with a personal best) and eighth in the 200-meter dash; Friederichs, eighth in the high jump; and Jimenez, eighth in the pole vault.
Several other Dogs had personal bests: ninth grader Mitch Marlow in the 400-meter dash (58.6); Kody Nehowig in the 800-meter run (2:25.3); ninth grader Sam Rittenhouse in the long jump (15' 10"); eighth grader Matt Schmiesing in the shot put (37' 1 1/2"); and seventh grader Tanner Wendroth in the 400-meter dash (59.2), which set a new seventh grade record, previously held by Eric Rausch.
Should either Bachman, Flanders, or Friederichs advance, the state meet will be held on Friday, June 9, and Saturday, June 10, at Hamline University.
Team Scores
1. St. Cloud Cathedral 203.0
2. Holdingford 114.0
3. Melrose 113.5
4. Albany 80.0
5. Zimmerman 76.5
6. Paynesville 43.5
7. St. John's Prep 37.0
8. BBE 32.5
Individual Results
200-meter dash: Alex Svejkovsky, eighth, 25.6;
3,200-meter run: Dugan Flanders, third, 10:57;
400-meter relay: Curt Forster, Kohl Nehowig, Aaron Burris, and Travis Jimenez, fifth, 48.2;
800-meter relay: Burris, Nehowig, Jimenez, and Svejkovsky, fifth, 1:41.7;
1,600-meter relay: Mitch Marlow, Nehowig, Tom Stoneburner, and Forster, seventh, 3:56.7;
3,200-meter relay: Nathan Friederichs, Kody Nehowig, Jamison Wall, and Flanders, fourth, 9:20.5;
Discus: Svejkovsky, seventh, 111' 6" (personal best);
High jump: Burris, sixth, 5' 4"; Friederichs, eighth, 5' 2";
Pole vault: Aaron Bachman, first, 12'; Friederichs, third, 11' (personal best); Jimenez, eighth, 9'.
---
Contact the author at editor@paynesvillepress.com • Return to Sports
Home | Marketplace | Community
---