Seniors Ross Barten and Justin Bork qualified individually for sections as the Bulldogs boys' golf team recorded another strong finish, taking sixth at the subsection meet at Becker on Tuesday, May 23.

The Dogs' sixth-place finish ties its loftiest placing of the year and comes in a much larger meet than its previous sixths. For the season, the Dogs have beaten 31 teams, including 20 in its last two meets.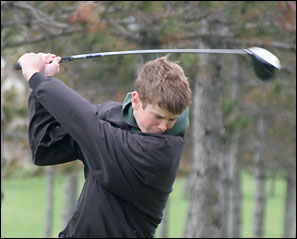 The strength of the West Central Conference North was evident at the subsection meet, with five of the top six teams (and seven of the top ten) coming from the Dogs' conference. Litchfield (321) won the subsection title while WCC North champion St. Cloud Cathedral (332) finished second. LPGE (334), New London-Spicer (339), and Albany (342) all finished within ten strokes of Cathedral.
Seniors Justin Bork (pictured) and Ross Barten qualified for sections in golf after shooting 83 and 82 respectively at subsections last week.
The Dogs (345) finished just 13 strokes from earning a team berth to sections. The Dogs edged Milaca (346) and Pierz (346) by one strokes.
Barten (42-40) led the Dogs with a ten-over-par round of 82 at Becker, with Bork (42-41) one stroke back at 83. Barten finished in a three-way tie for ninth overall at subsections, and Bork finished in a two-way tie for 12th.
The top two teams and the top ten individuals (not including members of the top two teams) qualify for sections. With Litchfield having four players shot 82 or better and Cathedral having two, Bork finished tied for sixth among the individual section qualifiers.
"It was nice to see the two seniors advance together at Becker," said coach Ron Fuchs. "I know they were a little nervous until they heard what the final cut was going to be, and when they heard it was at 85, I could see both of them grinning ear to ear."
Barten, added Fuchs, "has really spent a lot of time on the golf course. Ross is a very humble person and goes about his business without complaining at all and works hard on his game. The younger golfers can learn something from Ross that if you keep working on your game, you can reach the goals you set for yourself."
Bork has been the team's most consistent golfer all season, said Fuchs. "Justin was our #1 golfer all year, and the highlight for his season would be the 77 he shot at the NL-S Invitational. He tied for third out of 138 golfers. If Justin has another round like that at sections, he could see himself golfing in the state tournament next week," continued Fuchs.
Ninth grader Zach Fuchs just missed a section berth by one stroke, shooting 86 while the last section spot when to a NL-S golfer at 85.
Ninth grader Adam Youngs completed the Dogs' team score by shooting 94 over 18 holes at Becker. The Section 5A meet was held at Rich-Spring Golf Course on Tuesday, May 30. The top team and top five individuals will advance to the state meet next week.
The Class A state golf meet will be held at Izaty's Resort near Onamia on Wednesday, June 7, and on Thursday, June 8.
Team Scores
1. Litchfield 321
2. St. Cloud Cathedral 332
3. LPGE 334
4. New London-Spicer 339
5. Albany 342
6. Paynesville 345
7. Milaca 346
Pierz 346
9. Melrose 355
10. Sauk Centre 358
11. St. John's Prep 362
12. Foley 376
13. Eden Valley-Watkins/Kimball 393
14. Browerville 427
Individual Results
Paynesville - Ross Barten (9) 82; Justin Bork (12) 83; Zach Fuchs (17) 86; Adam Youngs 94; Jeremy Schmidt 97; Justin Hansen 117.
---
Contact the author at editor@paynesvillepress.com • Return to Sports
Home | Marketplace | Community
---