The Bulldogs baseball team - ranked #3 in Class AA - ended their regular season with a three-game winning streak with nonconference victories over ACGC 3-2 and Maple Lake 15-2 last week.

On Thursday, the Dogs built a 3-0 lead and held on to beat Atwater-Cosmos-Grove City in a night game at PAHS. This make-up game, originally scheduled for earlier in May, was Senior Day for the Dogs, who fielded a starting lineup with nine seniors.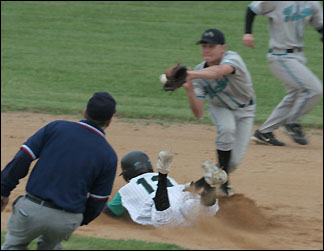 Senior John Hemingson hit a two-run homer to left-center in the bottom of the third inning to give the Dogs a 2-0 lead, scoring senior Ryan Hess, who had singled.
In the fourth, the Dogs added a run when senior rightfielder Sean Glenz singled, stole second, and scored on an error.
Hemingson and Hess combined to shut out the Falcons for five innings. Hemingson was dominant in his three innings of work, retiring all nine batters he faced, striking out seven and inducing two pop outs to first.
Hess earned the pitching victory with two innings of shutout relief.
Senior Trent Hansen slides safely into second after stealing a base during the Dogs' 3-2 victory over ACGC on Thursday.
The Dogs made a couple key defensive plays in the late innings to preserve the victory.
In the sixth, ACGC scored their first run on a double and a single, but the Dogs threw out the ACGC batter trying to advance to second on the throw to the plate. Glenz threw to junior catcher Steve Gerding at the plate, who threw to second where junior shortstop Tyler Zimmerman applied the tag.
That play turned out to be key as the Falcons had two other batters reach base in the sixth.
In the seventh, with runners on first and second, junior pitcher Ben Moser threw to third for a force out on a bunt attempt. The Falcons scored another run in the seventh, but Moser stranded the tying run at third and the winning run at second, getting the final two outs for a save.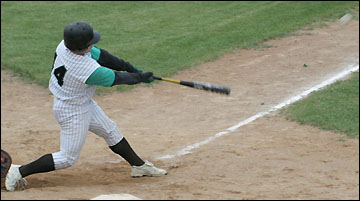 The Dogs (14-4) were seeded first in Subsection 20AA last week and opened subsection play on Tuesday, May 30, against eighth-seeded Maple Lake.
Senior John Hemingson hit a two-run homer to left to give the Dogs a 2-0 lead against ACGC on Thursday. He also pitched three perfect innings in the 3-2 victory.
Subsection 20AA features three teams rated in the top 25 in Class AA: Paynesville, #3; Litchfield, #14; and New London-Spicer, #24.
The complete subsection seedings were: (1) Paynesville; (2) Litchfield; (3) NL-S; (4) ACGC; (5) Eden Valley-Watkins; (6) Howard Lake-Waverly-Winsted; (7) Kimball; and (8) Maple Lake.
"I feel we deserve (the #1 seed) for our overall consistency," said coach Brad Skoglund. "We saw everyone's #1 or #2 pitcher. We didn't sneak up on anybody. Everyone was ready to play us. You have to give the guys a lot of credit for the way we've played."
While NL-S beat the Dogs twice by one run during the regular season, the Dogs tied for the title in the West Central Conference North with Melrose - rated #13 in Class AA - with 10-4 records while NL-S finished a game back at 9-5. The WCC North, said Skoglund, is "top to bottom the best AA conference in the state," so winning a conference title is a great accomplishment.
Should the Dogs win on Tuesday, they will advance to the subsection semifinals against either fourth-seeded ACGC or fifth-seeded EV-W on Wednesday, May 31. This game - with the loser being eliminated - will be played in Litchfield at 4:30 p.m.
The Subsection 20AA final will be held at Howard Lake (or at a neutrel site if the Lakers reach the final) on Thursday, June 1, at 7 p.m. Both the subsection champion and runner-up will advance to the double-elimination Section 5AA tourney next week in St. Cloud with the champ being undefeated and the runner-up with a loss already.
| | | | | | | |
| --- | --- | --- | --- | --- | --- | --- |
| ACGC-- | 000 | 001 | 1 | - 2 | 7 | 2 |
| Paynesville-- | 002 | 100 | 0 | - 3 | 5 | 2 |
ACGC - Batting: Justin Schroeder 2-4 2B R; Brooks Maurer 2-3 R; Alex Schemling 1-4 RBI; Pitching: (ip-h-r-er-bb-k) Michael Martin (L) (3-3-2-2-2-2); A.J. Frederick (1-1-1-0-1-0); Schroeder (2-0-0-0-1-4).
Paynesville - Batting: John Hemingson 1-2 HR RBI-2; James Paul 1-2 SB; Mark Andrie 1-2; Sean Glenz 1-3 R SB; Ryan Hess 1-3 R; Pitching: (ip-h-r-er-bb-k) Hemingson (3-0-0-0-0-7); Hess (W) (2-2-0-0-1-1); Ben Moser (S) (2-4-2-1-0-0).
Paynesville 15, Maple Lake 2
The Bulldogs pounded Maple Lake 15-2 in a nonconference road game on Monday, May 22. The Dogs took an 8-0 lead, had 15 hits, and invoked the ten-run rule after five innings.
The Dogs took a 3-0 lead in the first inning on a two-run single by senior James Paul, with another run scoring on an Irish error.
After the first inning, the Dogs scored all their runs with two-out hits. In the second, senior John Hemingson and senior Ryan Hess had two-out RBI singles, and senior Mark Andrie cleared the bases with a three-run double. In the fourth, senior Derek Looman plated two runners with a two-out, two-RBI single. In the fifth, the Dogs scored five runs with two outs on five hits and a walk. Paul hit an RBI double, junior Cory Nietfeld and junior Ben Moser had RBI singles, and junior Steve Gerding hit a two-run double.
Paul, meanwhile, cruised on the mound for the pitching victory, allowing only one hit and two runs in five innings.
The Dogs played Maple Lake again on Tuesday, May 30, in the subsection quarterfinal.
| | | | | | | |
| --- | --- | --- | --- | --- | --- | --- |
| Paynesville-- | 350 | 25x | x | - 0 | 10 | 0 |
| Maple Lake-- | 011 | 00x | x | - 2 | 1 | 2 |
Paynesville - Batting: James Paul 4-4 2B R-3 RBI-3 SB; John Hemingson 2-3 R-3 RBI SB; Cory Nietfeld 2-3 R-3 RBI; Steve Gerding 1-1 2B RBI-2; Ben Moser 1-1 R RBI; Mark Andrie 1-3 2B RBI-3; Derek Looman 1-3 RBI-2; Ryan Hess 1-3 R RBI; Derek Stanger 1-3 R; Alex Naujokas 1-4 R SB; Pitching: (ip-h-r-er-bb-k) Paul (W) (5-1-2-2-2-2).
Maple Lake - Batting: Aaron Caughley 1-3; Pitching: (ip-h-r-er-bb-k) Caughley (L) (2-6-8-5-3-0).
---
Contact the author at editor@paynesvillepress.com • Return to Sports
Home | Marketplace | Community
---