Bulldogs win eight sub-section events at home
This article submitted by Courtney Karsch on 5/31/00.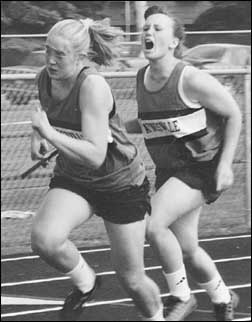 Despite an outstanding performance, the girls' track team settled for second place behind Atwater-Cosmos-Grove City in the sub-section track meet in Paynesville on Thursday.

After five straight sub-section championships, the Bulldogs ended up as sub-section runners-up this year. "The girls won eight events and had an outstanding meet!" said coach Dave Randgaard. "We were going for our fifth straight sub-section title, but came up short. I was really proud of the team's performance in this meet."

ACGC might have outscored Paynesville 210-169, but the Bulldogs still had eight sub-section champions and qualified 13 athletes to the section meet in 13 different events.

To qualify for sections, athletes need to place in the top four in the individual events. For relays, only the top two teams advanced. The section meet will be held on Thursday at St. John's University starting at noon.

The Bulldogs won five individual races and three relays. Double individual winners for Paynesville were senior Tiff Rausch in the 200- and 400-meter dashes and Jenny Hess in the 1,600- and 3,200-meter runs. Senior Courtney Karsch won the 100-meter dash.

Both Karsch and Rausch were also on winning relay teams. Karsch teamed with Heidi Jansen, Joy Hemmesch, and Carla Hemmesch to win the 400-meter relay. They practiced their hand-offs all week and ran their fastest time of the season (53.51).

Rausch teamed with Carin Frenchick, Danielle Lieser, and Amanda Mayer to win the 1,600-meter relay to set a new school record. In the last event of the night, they ran the race in 4:15.98.

The Bulldogs' 3,200-meter team was also victorious. Its members are Frenchick, Mayer, Leanne Kolb, and Sara Lieser.

These victories helped the Paynesville girls score 125 points in the running events, more than any other at the sub-section competition.

The meet started with preliminary heats for the hurdle races and the sprints. In the 100-meter hurdles, Katrina Orbeck and Hannah Braun made it on to the finals. Orbeck placed fifth, and Braun placed eighth. In the 300-meter hurdles, Braun was sixth, and Orbeck eighth.

In the 100-meter dash, Karsch won the race at the wire in a photo finish. Karsch was originally awarded second but upon photo review she became a sub-section champion. Jansen received fifth place.

For the 200 meter dash, Paynesville had three girls make it to the finals and score 13 points for the team. Rausch won, Karsch took seventh, and Carla Hemmesch received eighth place.

The 3,200-meter relay team ran their fastest time of the season with a time of 10:28.32. The team has really improved this season, and it showed last Thursday when they got first by more that 100 meters.

The 800-meter relay team was just short of qualifying for sections with a third-place finish. They ran their fastest time of the season (1:55.96). The team members are Jansen, Sara Lieser, Mindy Meagher, and Carla Hemmesch.

Sophomore Jenny Hess remains undefeated in both the 1,600- and the 3,200-meter runs. Just like last year, she is the sub-section champion in both events. She placed third in the state in each event last June.

In the 400-meter dash, Rausch, Danielle Lieser, and Meagher scored 17 points for the team. Meagher ran her best time of the season in 1:05.43 for sixth place. Lieser placed fifth, just short of advancing. Rausch earned another sub-section championship.

In the 800-meter run, Frenchick and Mayer advanced to sections. Frenchick was third and Mayer fourth. Leanne Kolb just missed making it to sections in this event with a sixth-place finish.

Five Bulldog athletes qualified for sections in the field events. In the high jump, Ashley Wall won a jump off for fourth place to advance to sections. In the long jump Danielle Lieser jumped into second place to advance.

Mayer also qualified for sections in the triple jump. She jumped 31"9" for third place. Mayer was the only Bulldog to qualify for sections in four events.

Despite an injured ankle, Melissa Bachman placed third in the pole vault at 8' 6". Right behind her was Joy Hemmesch in fourth place. Both qualified for sections.

Hemmesch placed in four events for the Bulldogs, taking home a first, fourth, fifth, and seventh. She had a personal best throw of 94 feet six inches in the discus for fifth place.

Team scores
1. ACGC -210
2. Paynesville -169
3. New London-Spicer -137
4. Annandale -80
5. Belgrade -47.5
6. Eden Valley -45

Individual Results
100-meter hurdles: Katrina Orbeck, fifth, 18.57; Hannah Braun, eighth, 20.14;
300-meter hurdles: Braun, sixth, 54.19; Orbeck, eighth, 55.06;
100-meter dash: Courtney Karsch, first, 13.37; Heidi Jansen, fifth, 13.83;
200-meter dash: Tiffany Rausch, first, 27.6; Karsch, seventh, 28.83; Carla Hemmesch, eighth, 28.86;
400-meter dash: Rausch, first, 1:02; Danielle Lieser, fifth, 1:05.19; Mindy Meagher, sixth, 1:05.43;
800-meter run: Carin Frenchick, third, 2:31.07; Amanda Mayer, fourth, 2:31.17; Leanne Kolb, sixth, 2:31.52;
1,600-meter run: Jenny Hess, first, 5:07.54;
3,200 meter run: Jenny Hess, first, 11:09.7; Jana Zumwalde, seventh, 14:08.62;
400-meter relay: Karsch, Jansen, Joy Hemmesch, Carla Hemmesch, first, 53.51;
800-meter relay: Jansen, Sara Lieser, Meagher, Carla Hemmesch, third, 1:55.96;
1,600-meter relay: Frenchick, Danielle Lieser, Mayer, Rausch, first, 4:15.98;
3,200-meter relay: Frenchick, Mayer, Kolb, Sara Lieser, first, 10:28.32;
Discus: Joy Hemmesch, fifth, 94' 6" (personal best); Morgan Martinson, seventh, 91' 1"; Ashley Wall, eighth, 81' 11";
Shot put: Joy Hemmesch, seventh, 31' 6.5";
High jump: Wall, fourth, 4' 8"; Rachel Koehn, eighth, 4' 6";
Long jump: Danielle Lieser, second, 15' 2.5"; Orbeck, seventh, 14' 0.5";
Triple jump: Mayer, third, 31' 9"; Wall, seventh, 30' 1"; Koehn, eighth, 30' 0.5";
Pole vault: Melissa Bachman, third, 8' 6"; Joy Hemmesch, fourth, 8' 0".
---