Tracksters win sub-section title
This article submitted by Andrew Jones on 5/31/00.

The Paynesville boys' track team took home another trophy last Thursday from the sub-section meet. Competing at home, the Bulldogs beat the other teams by more than 50 points.

The sub-section meet is the start of playoffs for the track teams. Individuals who place in the top four in their respective events advance to the section meet. Relay teams can also advance, but must place in the top two to advance to the sections.

Paynesville has 16 athletes who will compete in the section meet as individuals, on a relay team, or both. The Bulldogs won nine events.

The 1,600-meter relay team won a close race to finish the meet. They broke their previous school record by two hundreths of a second, running a 3:29.95. This team consists of Jeff Voss, Nic Glenz, Eric Rausch, and Luke Trees. Voss also advanced to sections by winning the 110-meter hurdles and taking second in the 300-meter hurdles.

Rausch won the 400-meter dash as well.

The Bulldogs advanced three to sections in both the mile and two-mile runs. Clayton Lang (pictured at right) won both the 1,600- and 3,200-meter races. He will be joined by Dan Pearson who took third in the 1,600 and fourth in the 3,200, and Adam Utsch who took fourth in the 1,600 and third in the 3,200.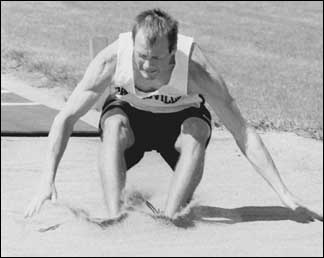 In the field events, the Bulldogs took four firsts, including a sweep of the jumps. Luke Trees won the high jump and took third in the long jump. Josh Trees won the triple jump competition and took third in the high jump.
John Brady (at left) won the long jump by one inch. He leaped 19' 1" on his last jump of the day to win.
Steve Flint advanced in the shot put with a first-place finish. Josh Bork advanced as well taking second place in the discus.
The 3,200-meter relay team of Eric Korman, Travis Flanders, Ryan Flanders, and Riley Flanders took second place. Korman also advanced in the 800-meter run, taking fourth in the toughest race of the day. Travis Flanders also advanced in the 400-meter dash, taking third.
Adam Schaefer took third in the 110-meter hurdles and fourth in the 300-meter hurdles to advance.
In all, the Bulldogs had at least one person advance in 12 of the 17 events. The team will have at least two athletes compete in seven events.
The sectional competition will be held at St. John's University on Thursday. Individuals who place in the top two and winning relay teams advance to the state meet. Or, athletes could advance by surpassing the state-qualifying standard for their event.

Team scores
1. Paynesville - 210.5
2. Atwater-Cosmos-GroveCity - 157
3. New London-Spicer - 116.5
4. Annandale - 101
5. Eden Valley-Watkins-Kimball -59
6. Belgrade-Brooten-Elrosa - 43
Individual results
110-meter hurdles: Jeff Voss, first, 15.04; Adam Schaefer, third, 16.74; Phil Mohs, sixth, 21.04;
300-meter hurdles: Voss, second, 40.59; Schaefer, fourth, 45.53; Mohs, sixth, 47.50;
200-meter dash: Chris Wendlandt, sixth, 25.03;
400-meter dash: Rausch, first, 53.10; Travis Flanders, third, 55.30;
800-meter run: Eric Korman, fourth, 2:08; Ryan Flanders, sixth, 2:16; Tom Flanigen, seventh, 2:16.5;
1,600-meter run: Clayton Lang, first, 4:37; Dan Pearson, third, 4:52; Adam Utsch, fourth, 4:58;
3,200-meter run: Lang, first, 10:21; Utsch, third, 10:49; Pearson, fourth, 10:53;
400-meter relay: Mike Smith, Wendlandt, John Brady, Ryan Whitcomb, sixth, 47.62;
800-meter relay: Wendlandt, Andrew Jones, Brady, Schaefer, fifth, 1:40.01;
1,600-meter relay: Luke Trees, Voss, Nic Glenz, Rausch, first, 3:29.95(school record);
3,200-meter relay: Travis Flanders, Korman, Ryan Flanders, Riley Flanders, second, 8:58;
Discus: Josh Bork, second, 119' 7"; Steve Flint, fifth, 117' 8.5";
Shot put: Flint, first, 46' 4"; Bork, sixth, 40' 5";
Long jump: Brady, first, 19' 1"; L. Trees, third, 18' 9"; Jones, seventh, 17' 5";
High jump: Luke Trees, first, 6' 2"; J. Trees, third, 5' 10";
Triple jump: J. Trees, first, 40' 9.5"; Whitcomb, fifth, 37' 7"; Jones, sixth, 37'.5";
Pole vault: Smith, fifth, 10' 6".
---