Ryan Wall qualifies for section golf meet again
This article submitted by Michael Jacobson on 5/31/00.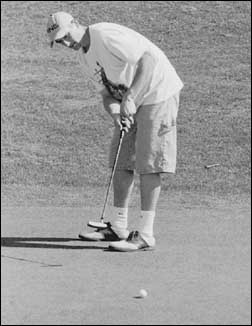 After two holes of the sub-section golf meet, it didn't look like Ryan Wall (pictured at right) would be able to qualify for the sectional golf meet. Starting on the 17th hole in Kimball, Wall had a triple bogey and a double bogey to go five over par as soon as the round began.

"Then he got it under control," said coach Todd Knudsvig.

Sure enough, Wall chipped in for birdie on hole #1 and played his last 16 holes in five over par as well. His ten-over-par total of 82 for 18 holes placed him 14th in the sub-section tournament at the Kimball Golf Club on Monday, May 22.

The top 15 individuals and top four teams advanced to the Section 5A meet, which was held yesterday at the Rich-Spring Golf Club between Richmond and Cold Spring.

The Bulldogs finished 10th as a team with a total of 360. In addition to Wall, Nathan Glenz shot 88, Adam Rafferty shot 95, and Eric Gerding shot 95 for Paynesville. Their total was 360.

Also playing for Paynesville were Mitchell Mackedanz (100) and Corey Schmitt (102).

Annandale, behind medalist Ben Greve, won the sub-section with a total of 304, besting second-place Maple lake by 26 strokes. Greve, last year's state champion, fired an even par round of 72.

Wall, a senior, qualified for sections last year by firing a 77 at Little Crow Country Club. He carded a 38 on the front nine at Kimball and a 44 on the back, thanks to his opening two holes.

But Wall strung a number of pars together and limited any further damage to mere bogeys. "My driving was having trouble, but my irons were pretty good," said Wall. "And my putting was pretty good, too. I made a number of 12-foot pars."

Wall also birdied a short par three with a good iron shot and a 12-foot putt.

Knudsvig described Kimball as a difficult course, with narrow fairways, steep hills, and lots of trees. He said it has steeper slopes and more trees than Koronis Hills.

Last week, Wall spent time practicing at Rich-Spring, a course that Knudsvig said was more forgiving. 'It's pretty open, so that'll help him, especially if he's not hitting it as straight as he should be." To qualify for state, Wall will need to finish in the top five at the section meet.

A year ago, Wall was unable to finish his sectional round due to illness.

at Kimball, Monday, May 22
Team scores - Annandale 304; Maple Lake 330; Belgrade-Brooten-Elrosa 330; Becker 331; McLeod West 344; Glencoe Silver-Lake 346; ACGC 357; Sibley East-Arlington 356; Lester Prairie 357; Paynesville 360; Osakis 363; Howard Lake-Waverly 373; Buffalo Lake-Hector 418;
Paynesville scores - Ryan Wall 82; Nathan Glenz 88; Adam Rafferty 95; Eric Gerding 95; Mitchell Mackedanz 100; Corey Schmitt 102; TOTAL: 360.
---