Bulldogs advance in sub-section playoffs
This article submitted by Michael Jacobson on 5/31/00.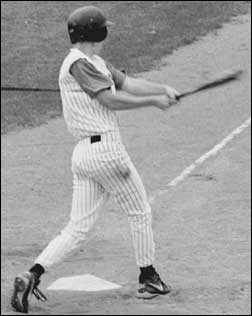 A six-run third innings was enough for the Bulldogs to advance in the subsection baseball tournament. Ben Bork and Doug Fuchs hit two-run homers in the inning as the Bulldogs beat Kimball 7-0.

Fuchs pitched a three-hitter in shutting out the Cubs. He walked one and struck out nine in a dominating performance.

Only two runners reached second base against Fuchs, and he picked one of them off base. Another Kimball battter was thrown out rounding first after a base hit. The Cubs stranded only three runners.

The Bulldogs, playing at home, broke the scoreless tie in the bottom of the third. Curtis Christian was hit by a pitch to start the inning, and Bork followed with a home run. Scott Braun singled with one out, and Fuchs followed with a home run. Chris Rohe walked, Nathan Schutz (pictured at left) singled, and Justin Mackedanz doubled to account for the other two runs in the inning.

Bork scored the Bulldogs' seventh run in the fourth inning.

The victory advanced the Bulldogs to the sub-section semifinals. They faced St. Michael-Albertville last night in Eden Valley in a must-win playoff game.

The winner will play for sub-section championship at Maple Lake on Thursday at 7:30 p.m. Both the sub-section champion and the runner-up will advance to the Section 5 tournament, which will be double elimination. The sub-section champion will enter the sectional tournament undefeated, and the runner-up will have a loss already.
| | | | | | | |
| --- | --- | --- | --- | --- | --- | --- |
| Kimball-- | 000 | 000 | 0 | - 0 | 3 | 3 |
| Paynesville-- | 006 | 100 | x | - 7 | 8 | 1 |
Kimball - Hitting: Brian Marquardt 1-3; Adam Garding 1-2; Todd Marquardt 1-2; Pitching: (ip-h-r-er-bb-k) Dan Kampa (L) (2-2-2-2-1-0).
Paynesville - Hitting: Ben Bork 3-3 HR SB-2; Doug Fuchs 1-3 HR; Justin Mackedanz 1-3 2B; Adam Miller 1-3; Nate Schutz 1-3; Runs: Bork 2; Scott Braun; Fuchs; Chris Rohe; Schutz; Curtis Christian; RBIs: Bork 2; Fuchs 2; Schutz; Mackedanz; Pitching: (ip-h-r-er-bb-k) Fuchs (W) (7-3-0-0-1-9).
Bulldogs win conference championship
Nathan Schutz drove in the winning run on a seventh-inning, bases-loaded single as the Bulldogs rallied to beat St. Cloud Cathedral 7-6 on Monday, May 22. With their 11th conference victory, the Bulldogs claimed the outright title in the West Central Conference North.
Cathedral entered the contest with a record of 9-2 in conference, while the Bulldogs were 10-1. The victory raised the Bulldogs' record to 11-1 in the WCCN, with their only defeat coming at the hands of the Crusaders in April by the score of 7-1.
Cathedral, rated fourth in Class AA at the time, jumped to a 4-0 lead in the first inning. They scored four runs in the first innings as their first four batters hit safely. A good hitting team, no one in their lineup struck out.
The Bulldogs, who were ranked fifth in the state last week but moved up to third this week, got two runs back in the bottom of the first as Ben Bork and Doug Fuchs scored runs. Fuchs and Adam Miller had hits in the inning for the Bulldogs.
Cathedral scored another run in the second to lead 5-2, but it could have been worse. Crusader hitters had six hits before making four outs. Senior Justin Mackedanz relieved starting pitcher Jon Lieser with two on and none out in the second and induced a ground-ball double play for the Bulldogs.
Mackedanz (4-0) yielded one run in six innings to earn the pitching victory. He yielded three hits and four walks, and was aided by three double plays.
Neither team scored again until the fifth.
Trailing 5-2, the Bulldogs took the lead by scoring four runs in the bottom of the fifth. Mackedanz led off with a single, and Curtis Christian and Ben Bork walked to load the bases. Lieser hit a soft grounder, but Mackedanz jarred the ball loose from the Crusader's catcher in a collision at the plate and was safe at home.
After a strikeout, Doug Fuchs hit a sacrifice fly to right to score a second run. Miller and Chris Rohe each delivered two-out RBI singles to score the tying and go-ahead runs as Paynesville took a 6-5 lead.
Good defense in the top of the sixth squelched a Crusader opportunity. With a runner on second and one out, catcher Scott Braun almost picked the runner off base with a strong throw. Moments later, a hard-hit line drive was snared by Miller at first, who threw to second for a double play. Skoglund said Miller has played excellent defense lately.
Cathedral loaded the bases with one out in the top of the seventh. They scored one run, on a sacrifice fly to right, to tie the score at six, but Mackedanz got their clean-up hitter to pop out for the final out.
With two outs, the bases empty, and the score tied at six, the game appeared to be headed for extra innings in the bottom of the seventh. However, the Bulldogs managed a two-out rally to win.
Fuchs started the rally by lofting a double to the gap in right-center. Miller, who already had three hits, was intentionally walked, and Rohe reached on an infield single. With the bases loaded, Schutz, a senior, hit a flare to short left that fell between the third basemen, shortstop, and left fielder and allowed Fuchs to score.
The conference title is the first for the Paynesville baseball team since 1996, when they shared the title with Cathedral. The Bulldogs also were conference champions in 1989 and 1990.
Head coach Brad Skoglund thought the Bulldogs had an outside shot at the conference title at the start of the season. The Bulldogs lost four starters from last year, including their #2, #3, and #4 hitters, a significant portion of their lineup.
"We really thought we would struggle offensively," Skoglund said of his coaching staff's preseason evaluation of the team. "As it turns out, offense has been our strength. We just hit the ball very well.."
Combine that with a pitching staff that goes four deep, and the result is an 18-2 regular season record. Fuchs (7-1) leads the pitchers in victories. Lieser (4-0) and Mackedanz (4-0) are both undefeated in four decisions. Schutz (3-1), a left hander, has won three of four.
Having pitchers who can throw complete games and give up just a couple runs makes his job easy, Skoglund said. He praised assistant coach Dick Realdsen's work with the pitching staff.
Skoglund also said the team chemistry this year has been excellent. The Bulldogs' lineup is deep, its defense has improved, and the team is playing confidently and loose. "We're having fun playing," he said. "We have that extra bounce in our step that's kind of neat to see," he explained.
| | | | | | | |
| --- | --- | --- | --- | --- | --- | --- |
| Cathedral-- | 410 | 000 | 1 | - 6 | 9 | 1 |
| Paynesville-- | 200 | 040 | 1 | - 7 | 9 | 0 |
Cathedral - Batting: Nate Baraga 3-4 2B RBI; Aaron Karn 2-3 2B RBI-3; Tony Dingmann 1-3 3B RBI; Runs: Baraga; Nate Williams; Karn; Dingmann; Charlie Hoffman; Shaun Simones; Pitching: (ip-h-r-er-bb-k) Brett Hemmelgarn (4-4-5-5-3-1); Williams (L) (2.2-5-2-2-1-1) .
Paynesville - Batting: Adam Miller 3-3; Doug Fuchs 2-3 2B; Chris Rohe 2-4; Justin Mackedanz 1-3; Nathan Schutz 1-4; Runs: Ben Bork 2; Fuchs 2; Jon Lieser; Mackedanz; Curtis Christian; RBI: Miller 2; Fuchs 2; Rohe; Lieser; Schutz; Pitching: (ip-h-r-er-bb-k) Lieser (1-6-5-5-1-0); Mackedanz (W) (6-3-1-1-2-0).
Paynesville 9
BBE 3
A 14-hit attack propelled the Bulldogs to a 9-3 victory over Belgrade-Brooten-Elrosa in their last regular season baseball contest on Tuesday, May 23.
The Bulldogs took control with four runs in the third and two more in the fourth and sixth innings. The Bulldogs scored first, but BBE held a 2-1 lead after plating two runners in the second.
Curtis Christian and Doug Fuchs had three hits for Paynesville, and Jon Lieser and Scott Braun had two apiece to lead the attack. Fuchs had three RBIs. Lieser, Braun, and Ben Bork scored two runs apiece.
On the mound, senior Nathan Schutz earned his third victory of the season with a complete game. He scattered eight hits, with five of them by two Jaguar hitters. Schutz struck out eight batters.
| | | | | | | |
| --- | --- | --- | --- | --- | --- | --- |
| BBE-- | 020 | 000 | 1 | - 3 | 8 | 4 |
| Paynesville-- | 104 | 202 | x | - 9 | 14 | 1 |
BBE - Batting: Nick Speldrich 3-4 R RBI; Adam Hanson 2-5; Josh Eckstein 1-2 2B R RBI; Pitching: (ip-h-r-er-bb-k) Pat Weller (L) (4-11-7-4-0-3); Eckstein (2-3-2-2-1-2).
Paynesville - Batting: Curtis Christian 3-3 2B; Doug Fuchs 3-4 2B; Scott Braun 2-3 SB; Nick Stalboerger 1-1; Chris Rohe 1-2 2B; Ben Bork 1-2 SB; Adam Miller 1-3; Runs: Bork 2; Lieser 2; Braun 2; Fuchs; Miller; RBI: Fuchs 3; Rohe 2; Christian; Braun; Pitching: (ip-h-r-er-bb-k) Nathan Schutz (W) (7-8-3-3-1-8).
---