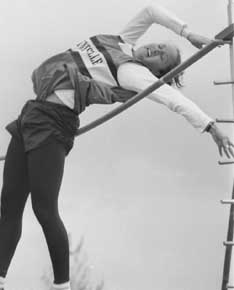 Last Thursday, the Paynesville girls' track team suffered their first loss of the season in the subsection meet at Atwater-Cosmos-Grove City High School. ACGC won the meet with 207 points, and Paynesville came in second with 174 points.

The girls' track team captured the runner-up trophy and finished the season with the best overall season record in the school history: 69 wins and one loss.

Junior Melissa Bachman cleared 9' in the pole vault to win the subsection title for the Bulldogs.

Six teams participated in the meet. "We had an excellent meet, with three places in many events. We scored points in all 18 events." said coach Dave Rangaard.

The top two relays and the top four individuals qualified for sections. Fourteen Bulldog athletes qualified for sections: Melissa Bachman, Hannah Braun, Heather Christensen, Ranea Eastling, Carla Hemmesch, Joy Hemmesch, Jenny Hess, Heidi Jansen, Kendra Johnson, Leanne Kolb, Danny Lieser, Mandy Mayer, Brooke Schmitz, and Jessica Virant.

The 3,200-meter relay was Paynesville's first event to move on to sections on Wednesday, May 31, at St. John's University. Runner-up relay members were Schmitz, Kolb, Lieser, and Johnson.

Virant was the surprise of the meet, placing second in the 100-meter hurdles with her personal best time in that race. Katrina Orbeck also had her personal best in the 100-meter hurdles and took fifth, just missing a section berth.

Ranea Eastling showed that she was the stop sprinter in the subsection by taking first place in three events. She earned one as part of the Bulldogs' 400-meter relay team with Heidi Jansen, Joy Hemmesch, and Carla Hemmesch.

Paynesville scored 15 points in the 200-meter dash. Eastling took first, Carla Hemmesch took sixth, and Kendra Johnson took seventh place. Eastling also won the 100-meter dash.

Paynesville also scored 15 points in the pole vault. Missy Bachman placed first, Joy Hemmesch fifth and Jessica Paul eighth with her personal best vault.

Jenny Hess was also a double winner for the Bulldogs, taking both the 1,600-meter and the 3,200-meter runs. Mandy Mayer took third in the 1,600-meter run to advance to sections as well.

Paynesville's 800-meter relay also qualified for the section meet by taking second. Heidi Jansen, Heather Christensen, Hannah Braun, and Carla Hemmesch ran very well for the Bulldogs.

The 1,600-meter relay was the closest race of the meet. Paynesville ended up third at the finish line with New London-Spicer beating them out for second place. This relay team - Schmitz, Kolb, Mayer, and Lieser - just missed a section berth but all four members qualified in other events.

Coach Rangaard was very proud of his team. "We scored over 10 points in eight different events and had three relays and 14 individuals advance to the Section meet."

"ACGC had their best performance of the season and really had an outstanding effort to win the meet," he added. "They performed at a championship level!"

The section championship will be held at St. John's University in Collegeville this afternoon, starting at noon. The top two individuals and the top relay advance to state on June 8 and 9.

Team scores
1. ACGC 207
2. Paynesville 174
3. NL-S 131
4. Annandale 97
5. EV-W/K 59
6. BBE 31

Individual Results
100-meter hurdles: Jessica Virant, second, 17.34 (personal best); Katrina Orbeck, fifth, 18.04 (pb); Hannah Braun, seventh, 18.10;
300-meter hurdles: Braun, sixth, 53.63; Jessica Virant, eighth, 54.55; Katrina Orbeck, tenth, 56.88;
100-meter dash: Ranea Eastling, first, 13.02; Heidi Jansen, sixth, 13.79; Heather Christensen, seventh, 13.82;
200-meter dash: Ranea Eastling, first, 26.62; Carla Hemmesch, sixth, 28.99; Kendra Johnson, seventh, 29.23;
400-meter dash: Danny Lieser, seventh, 1:08.43; Kendra Johnson, ninth, 1:09.5;
800-meter run: Brooke Schmitz, second, 2:34; Leanne Kolb, fifth, 2:40; Mandy Mayer, seventh, 2:43;
1,600-meter run: Jenny Hess, first, 5:14; Mandy Mayer, third, 6:09;
3,200-meter run: Jenny Hess, first, 11:22;
400-meter relay: Eastling, Jansen, Joy Hemmesch, Carla Hemmesch, first, 54.61;
800-meter relay: Jansen, Christensen, Carla Hemmesch, Braun, second, 1:59.48;
1,600-meter relay: Lieser, Mayer, Kolb, Schmitz, third, 4:29.81;
3,200-meter relay: Schmitz, Kolb, Lieser, Johnson, second,11.06;
Discus: Morgan Martinson, fifth, 90' 3.5"; Joy Hemmesch, sixth, 88' 5.5"; Jessica Paul, eighth, 80' 5.5";
Shot put: Jansen, fourth, 32' 8.75"; Hemmesch, fifth, 31' 5.75"; Martinson, eleventh, 27' 2.25";
High jump: Ashley Wall, sixth, 4'8"; Ashley Ahrens, seventh, 4' 8"; Kendra Johnson, tenth, 4' 6";
Long jump: Lieser, second, 15' 6.75"; Christensen, ninth, 14' 5.5"; Eastling, 14th, 13' 8";
Triple jump: Mayer, fifth, 32' 3.5"(pb); Virant, sixth, 31' 1.5"; Rachel Koehn, tenth, 29' 6.5";
Pole vault: Melissa Bachman, first, 9' 0"; Hemmesch, fifth, 8' 0"; Paul, eighth, 6' 0"(pb).
---
Contact the author at paypress@lkdllink.net • Return to Sports
Home | Marketplace | Community

---