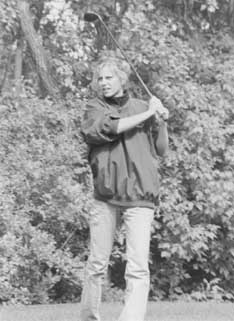 On Monday, May 21, the girls' golf team traveled to the Little Crow Country Club between Spicer and New London to compete in the 5A South Subsections.

Junior Sally Heitke was the only Bulldog from the girls' team to qualify for sections. She shot a 45 on the Willows and a 49 on the Pines to give her a total of 94. "My fairway shots and tee-offs were great, even in the rain," Heitke said.

Heitke placed sixth in the subsection.

Sections was held yesterday at Rich-Spring Golf Club between Richmond and Cold Spring. The state tournament will be held in Onamia on June 7 and 8.

Despite the cold and rainy weather, the girls' took third place as a team with a total of 417. But only the first two teams advance to sections. Becker won the subsection by a considerable margin, with Annandale taking second.

Coming in as the second Bulldog was Katie Wright. She shot a 52 on the Willows and a 53 on the Pines for a total of 105. Wright missed advancing to sections by one stroke.

Both Amanda Glenz and Maria Janotta shot 18-hole rounds of 109. Glenz shot a 57-52, while Janotta shot a 47-62. Erin O'Fallon shot a 50 on the Willows and a 64 on the Pines to give her a total of 114. Heather Fuchs came in with a 67-59 to give her a total of 126.

The golf team gave out awards on Thursday. The Most Improved award went to senior Katie Wright, who improved from averaging 56.2 strokes a round last year to 53.3 strokes a round this year. Wright's average dropped 2.7 strokes from last year.

The Most Valuable Player award went to juniors Sally Heitke and Maria Janotta. Janotta led the team in scoring for the majority of the year, up until the last two meets. Heitke led the team with an average of 50.7 strokes per round, while Janotta averaged 51.9 strokes per round.

The girls are looking forward to next year and hope they will advance as a team to sections.

The team will lose two seniors to graduation: Wright and O'Fallon.

Team scores
1. Becker 369
2. Annandale 386
3. Paynesville 417
4. Osakis 423
5. Glencoe-Silver Lake 433
6. Lester Prairie 439
7. Buffalo Lake-Hector 450
BBE 450
9. Maple Lake 491
10. Sibley East 568
11. Howard Lake-Waverly-Winsted 607
12. ACGC INC

Individual Results
Paynesville: Sally Heitke 45-49=94; Katie Wright 52-53=105; Maria Janotta 47-62=109; Amanda Glenz 57-52=109; Erin O'Fallon 50-64=114; Heather Fuchs 67-59=126.
---
Contact the author at paypress@lkdllink.net • Return to Sports
Home | Marketplace | Community

---