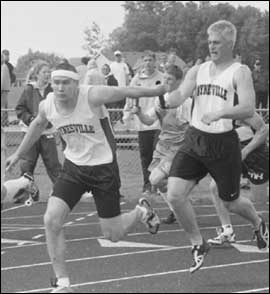 The Bulldogs advanced 14 athletes to sections during the subsection meet at Grove City last Thursday. To advance to sections an individual must place in the top four of his event, while relay teams must place in the top two.

As a team, the Bulldogs were edged by ACGC for the subsection title by less than 10 points. ACGC scored 178 to Paynesville's 169.5.

Adam Schaefer hands off to Josh Trees during the Bulldogs' winning 400-meter relay at subsections.

Josh Trees advanced in all four of his events for Paynesville. Trees took home gold in the high jump and the triple jump. He also took third in the 100-meter dash and was a part of the 400-meter relay team that took first place. Other members of that relay were Adam Schaefer, Nic Glenz, and Ryan Whitcomb.

Glenz also took first place in the pole vault with a personal best vault of 12' 6".

Whitcomb took home a silver in the long jump competition.

The Bulldogs' 3,200-meter relay team took home a silver medal as well. Members of that team were Eric Korman, Travis Flanders, Riley Flanders, and Scott Thompson. Korman also took fourth in the 800-meter run. Travis Flanders also took second place in the 400-meter dash.

Clayton Lang took first place in the 1,600-meter run and second place in the 3,200-meter run. Dan Pearson took third in both of those races. Ryan Flanders took fourth in the 1,600-meter run, and Jesse Rien took fourth in the 3,200-meter run.

Steve Mages took home two silver medals in both of the hurdle races. Mages lost only to Kent Anderson of ACGC, who is one of the top-ranked hurdlers in the state.

Andrew Jones took fourth place in the triple jump.

These Bulldogs compete today (May 31) at noon in the section meet at St. John's University.

The top two in each individual event as well as the top relay advance to state, which will be held June 8 and 9 in Blaine.

Team scores
1. ACGC -178
2. Paynesville -169.5
3. Annandale -128.5
4. New London- Spicer -97
5. BBE -72
6. EVWK -46

Individual Results
110-meter hurdles: Steve Mages, second, 16.42; Chad Wyffles, sixth, 19.92;
100-meter dash: Josh Trees, third, 11.37;
300-meter hurdles: Mages, second, 43.59; Wyffles, sixth, 46.35; Andrew Jones, eighth, 47.00;
400-meter dash: Travis Flanders, second, 54.45; Tom Flannigan, seventh, 59.26;
800-meter run: Eric Korman, fourth, 2:09;
1,600-meter run: Clayton Lang, first, 4:36; Dan Pearson, third, 4:46; Ryan Flanders, fourth, 4:56;
3,200-meter run: Lang, second, 10:12; Pearson, third, 10:32; Jesse Rien, fourth, 10:34;
400-meter relay: Nic Glenz, Adam Schaefer, Ryan Whitcomb, Trees, first, 46.39;
800-meter relay: Lee Fuchs-Thielen, Troy Fuchs-Thielen, Jones, Mages, fourth, 1:42.62;
1,600-meter relay: T. Flanders, Scott Thompson, Korman, Flannigan, third, 3:46.11;
3,200-meter relay: Travis Flanders, Korman, Thompson, Riley Flanders, second, 8:51;
Discus: Jonnie Schefers, eighth, 109' 3";
Long jump: Ryan Whitcomb, second, 19' 10"; Andrew Jones, eighth, 18' 0";
Triple jump: Trees, first, 41' 11"; Jones, fourth, 38' 10"; Whitcomb, fifth, 38' 9.5";
High jump: Josh Trees, first, 6' ; Mages, fifth, 5' 4";
Pole vault: Glenz, first, 12' 6"; T. Fuchs-Thielen, fifth, 10'.

---
Contact the author at paypress@lkdllink.net • Return to Sports
Home | Marketplace | Community
---