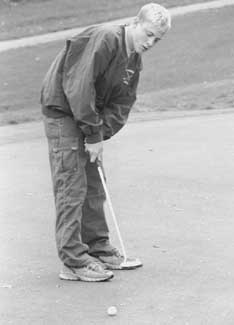 Junior Nathan Glenz qualified for the section golf tournament by firing an 84 over 18 holes at the Little Crow Country Club on Monday, May 21.

Playing the Willow and the Pines courses, Glenz led the Paynesville team to a seventh place finish and finished in the top ten individually (excluding the members of the top two teams, which also advance to sections.)

Glenz made the section cut by one stroke. The last section qualifier shot an 85. Eighth grader Mitchell Mackedanz fired an 87 and missed the section cut by two, and senior Corey Schmitt had an 88 and missed the cut by three.

Adam Rafferty shot a 91 for Paynesville's fourth score as a team. The team had a four-player total of 350, one of their best of the year.

After playing all season against the elite teams in the West Central Conference North (and finishing in the cellar), the Bulldogs fared well against their subsection foes. The Bulldogs finished in the middle of the pack, placing seventh out of 13 teams.

Also posting scores for Paynesville were senior Mark Brossard (97) and sophomore Eric Gerding (100).

Glenz played in the section tournament at the Rich-Spring Golf Club between Richmond and Cold Spring yesterday. The state golf tournament will be held in Onamia on June 7 and 8.

Team scores
1. Annandale 314
2. Glencoe-Silver Lake 321
3. ACGC 334
4. BBE 338
5. Maple Lake 339
6. Becker 343
7. Paynesville 350
8. Howard Lake-Waverly-Winsted 368
9. Sibley East 374
10. Osakis 379
11. Lester Prairie 387
12. Buffalo Lake-Hector 393
13. McLeod West 437

Individual Results
Paynesville: Nathan Glenz 84; Mitchell Mackedanz 87; Corey Schmitt 88; Adam Rafferty 91; Mark Brossard 97; and Eric Gerding 100.
---
Contact the author at paypress@lkdllink.net • Return to Sports
Home | Marketplace | Community
---