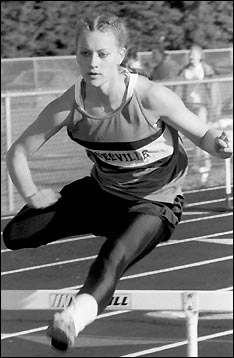 The Bulldogs girls' track team finished third at the subsection track meet on Thursday at New London-Spicer, with ACGC taking first and Annandale taking second.

The subsection meet determined which girls would advance to sections. To advance, an athlete had to place fourth or better in an individual event or had to place first or second in a relay.

Ninth grader Kendra Johnson ran a personal best in the 300-meter hurdles in 50.5 seconds and took first at subsections last week.

Paynesville has a total of seven girls advancing to sections, which took place on Wednesday at St. John's University.

The Bulldogs were able to score 18 team points in the mile run. Senior Jen Hess finished first, and eighth grader Brooke Schmitz was right behind her in second place.

The Dogs also gained 18 team points in the 3,200-meter (or two-mile run), with Hess finishing first and seventh grader Kacy Nehowig second.

Schmitz also placed second in the 800-meter run.

In the 300 meter hurdles, ninth grader Kendra Johnson placed first, finishing the race in a personal best time. She also placed fourth in the 100-meter hurdles.

Eighth grader Tara Schmidt placed fourth in the 200-meter dash.

Senior Missy Bachman finished the pole vault in first place. Ninth grader Brittany Lieser finished sixth, vaulting her personal best. Lieser also had her personal best in the high jump.

In the shot put, senior Heidi Jansen finished in third place to advance to sections.

"We scored points in all 18 events but we didn't score as well in our relays and field events as we could have," said coach Dave Randgaard.

"The 800-, 1,600-, and 3,200-meter runs were the strength of the team for this meet, as well as the pole vault," he added.

At sections, athletes will need to place in the top two individually, run on a winning relay, or meet the state qualifying standard to advance to the state meet, which will be held in Blaine on Friday and Saturday, June 7 and 8.

Team Scores
1. ACGC 160
2. Annandale 134.5
3. Paynesville 126
4. NL-S 95.5
5. Maple Lake 83
6. EV-W/K 53
7. BBE 44

Individual Results
100-meter hurdles: Kendra Johnson, fourth, 18.2;
300-meter hurdles: Johnson, first, 50.5 (personal best);
100-meter dash: Tara Schmidt, sixth, 14.4;
200-meter dash: Schmidt, fourth, 29.2;
400-meter dash: Mandy Mayer, seventh, 1:07.95;
800-meter run: Brooke Schmitz, 2:30.2; Jenny Berg, seventh, 2:42.4;
1,600-meter run: Jenny Hess, first, 5:22; Brooke Schmitz, second, 5:39;
3,200-meter run: Hess, first, 11:22; Kacy Nehowig, second, 12:34.9;
400-meter relay: Heather Christensen, Heidi Jansen, Johnson, Missy Bachman, fourth, 55.3;
800-meter relay: Carla Hemmesch, Jansen, Hannah Braun, Schmidt, seventh, 1:59;
1,600-meter relay: Mayer, Hemmesch, Schmitz, Berg, fourth, 4:31.30;
3,200-meter relay: Sara Lieser, Sheena Hoekstra, Berg, Mayer, sixth, 11:33;
Discus: Morgan Martinson, sixth, 93' 2";
Shot put: Jansen, third, 34' 10.5";
High jump: Brittany Lieser, seventh, 4' 10" (personal best);
Long jump: Jansen, fifth, 14' 9"; Christiansen, seventh, 14' 7";
Triple jump: Bachman, sixth, 31' 6.5"; Jess Virant, eighth, 30' 8.5";
Pole vault: Bachman, first, 9' 0"; Brittany Lieser, sixth, 7' 0" (personal best); Jess Paul, seventh, 6' 6".
---
Contact the author at paypress@lkdllink.net • Return to Sports
Home | Marketplace | Community
---