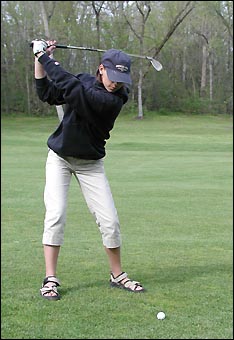 Sophomore Heather Fuchs finished tenth in the subsection golf playoff last week and qualified for the section meet this week.

She is the only PAHS golfer to advance to sections this year.

Fuchs shot 50 on her first nine at Becker on Tuesday, May 21, and 48 on her second nine for a total of 98, good for tenth place. The cutoff for a section berth was 99.

Fuchs said she hit the ball very well but did not putt well, three-putting several times. Had she putted better, ÒI easily could have shaved 10 strokes off my round,Ó she said.

She had two pars, and played mostly bogey golf other than that.

Senior Sally Heitke missed the cutoff for section qualifying by two strokes. Heitke shot 57 her first round but recovered to fire 44 on her second nine. She qualified individually for sections last year.

Eighth grader Amber Jensen shot two rounds of 52 to finish at 104, and sophomore Amanda Glenz shot 107 to finish the Bulldogs' team scoring.

The Bulldogs finished sixth as a team. Albany and New London-Spicer finished first and second and advanced to sections as a team.

The meet medalist was senior Jackie Beste of Sauk Centre with an 81. She led the Streeters to third place, as the West Central Conference North put two teams in the top three and three teams in the top six.

The top ten individuals Ð not including the top two teams - advanced to sections, which were held on Tuesday at Rich-Spring Golf Course. Fuchs shot a 91 and missed qualifying for state by seven strokes.

at Melrose
Tuesday, May 21
1. Albany 380
2. New London-Spicer 386
3. Sauk Centre 391
3. Foley 391
5. Milaca 401
6. Paynesville 410
7. Pierz 421
8. BBE 424
9. Long Prairie-Grey Eagle 450
10. Browerville 461
11. St. Cloud Cathedral 467
12. Melrose 495
12. EV-W/Kimball 495
14. St. John's Prep Inc.

Individual Results
Paynesville: Heather Fuchs (10) 50-48=98; Sally Heitke 57-44=101; Amber Jensen 52-52=104; Amanda Glenz 51-56=107; Maria Janotta 55-53=108; Jena Spaulding 48-61=109.
---
Contact the author at paypress@lkdllink.net • Return to Sports
Home | Marketplace | Community
---