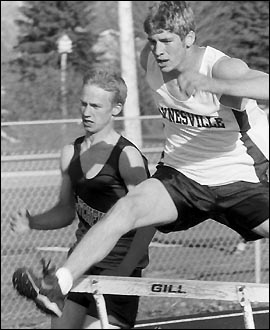 The Paynesville male tracksters traveled to New London-Spicer for the subsection championships last Thursday and captured first place.

The weather was the usual for this spring: colder than normal with wind and no sun. Despite the depressing weather, the Bulldogs performed at top form.

To advance to the section meet, athletes must place in the top four of individual events and in the top two for relays. The Bulldogs had 14 athletes advance to the subsection meet.

Senior Steve Mages took second in both hurdle races at subsections and qualified for sections in both events.

Senior Josh Trees jumped better than he has all year in both the high jump and the triple jump, winning both events. Trees leaped 44 feet in the triple jump, which would have been a meet record but it was wind-aided.

Trees also was part of the Dogs' winning 400-meter relay team. Other members of that team were seniors Ryan Whitcomb, Nic Glenz, and Adam Schaefer.

Glenz also took second place in the pole vault competition.

Senior Jesse Rien won both the 800- and the 1,600-meter runs, with senior teammate Dan Pearson right behind in the 1,600-meter run. Pearson also took second place in the 3,200-meter run.

Senior Steve Mages took second place in both hurdle races. Sophomore Chad Wyffels was right behind Mages in the 300-meter race in third place.

Wyffles was also in the 3,200-meter relay along with Scott Thompson, Tom Flannigan, and Riley Flanders. That relay team took second place.

Senior Andy Jones took second place in the long jump competition, and junior Milan Virant advanced in the 400-meter dash by taking third.

Senior Jason Leyendecker threw a personal best in the discus to take third place and advance to sections.

The section meet was held at St. John's University on Wednesday. The top two individuals, the top relay, and anyone reaching the state-qualifying standard will advance to the state meet in Blaine on Friday, June 7, and Saturday, June 8.

Team Scores
1. Paynesville 165
2. Atwater-Cosmos-GroveCity 134
3. Annandale 131
4. New London-Spicer 122
5. Belgrade-Brooten-Elrosa 68
6. Maple Lake 55
7. Eden Valley-Watkins/Kimball 19

Individual Results
110-meter hurdles: Steve Mages, second, 16.69;
300-meter hurdles: Mages, second, 44.57; Chad Wyffels, third, 44.61;
100-meter dash: Lee Fuchs-Thielen, seventh, 12.84;
400-meter dash: Milan Virant, third, 54.47; Andy Jones, sixth, 56.70;
800-meter run: Jesse Rien, first, 2:06; Scott Thompson, fifth, 2:12;
1,600-meter run: Rien, first, 4:45; Dan Pearson, second, 4:49;
3,200-meter run: Pearson, second, 10:40;
400-meter relay: Ryan Whitcomb, Josh Trees, Nic Glenz, and Adam Schaefer, first, 45.69;
800-meter relay: Whitcomb, Glenz, Virant, and Fuchs-Thielen, third, 1:37.77;
1,600-meter relay: Riley Flanders, Jones, Virant, Rien, third, 3:43.8;
3,200-meter relay: Flanders, Wyffles, Flannigan, and Thompson, second, 8:52;
Discus: Jason Leyendecker, third, 125' 7Ó; Schaefer, sixth, 111' 8Ó; Jonnie Schefers, seventh, 111' 5Ó;
Shot put: Schaefer, fifth, 41' 6Ó;
High jump: Josh Trees, first, 6' 3Ó; Mages, fourth, 5' 10Ó;
Long jump: Jones, second, 20' 1Ó;
Triple jump: Trees, first, 44'; Jones, sixth, 38' 8.5Ó; Whitcomb, seventh, 38' 6Ó;
Pole vault: Glenz, second, 11'; Aaron Bachman, eighth, 9' 6Ó.
---
Contact the author at paypress@lkdllink.net • Return to Sports
Home | Marketplace | Community
---