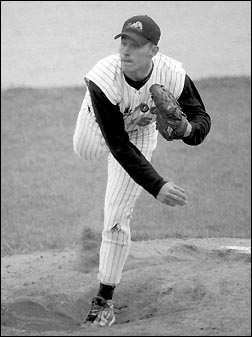 The Dogs chased the Cats home without a win.

The Paynesville Bulldogs baseball team advanced in the subsection playoffs last week with a 9-0 victory over New London-Spicer, ending the Wildcats' season and keeping them from having a win.

Playing at home on Thursday, the Bulldogs scored at least a run in their first five at bats, including multi-run innings in the first, fourth, and fifth. They were aided by seven errors by the Wildcats, which led to eight unearned runs.

The Bulldogs' only earned run came on junior Josh Kampsen's two-run homer in the fourth inning. Kampsen (pictured at right) also pitched for the Dogs and threw six shutout innings before hitting the ground awkwardly on a bunt attempt in the seventh.

"Josh pitched a heckuva game," said coach Brad Skoglund. "Our defense was good. (Senior) Pat Rohe played well at shortstop."

Kampsen pitched out of a two-on, no-out situation in the second inning by striking out the side. In the third, the Dogs turned a 6-4-3 double play to end the inning, and in the fifth, Kampsen escaped a bases loaded jam, getting another key strikeout.

Kampsen finished with nine strikeouts, and Fuchs added two more in the seventh inning.

On offense, the Bulldogs had seven hits and were helped by seven errors. Kampsen and Rohe each had two hits for the Dogs and scored two runs.

Senior Craig Thomes also had two hits for Paynesville, including a two-run single in the bottom of the fifth.

Thomes, according to Skoglund, has been a pleasant surprise who is swinging a hot bat. Skoglund praised Thomes for his hard work, including lifting weights in the offseason. "I'm really proud of him," said Skoglund.

The Bulldogs advanced to the subsection semifinals against Rockford, which was scheduled to be played on Tuesday in Maple Lake, but was called due to rain. The game was played Wednesday afternoon.

The winner advances to the subsection final, also in Maple Lake, on Thursday, May 30, at 5 p.m. From this point on, the playoffs will be double elimination.

Both the subsection champion and the runner-up advance to the section tournament, which starts on Monday, June 3, at Faber Field in St. Cloud. The District #17 and #20 runners-up will play at 5 p.m. on Monday in an elimination game. The champions will play on Monday at 7:30 p.m.

On Tuesday, the winner in the runners-up game and the loser in the champions game will play another elimination game at 7:30 p.m. The section final will be held on Thursday, June 6, at 5 p.m., with a possible second game following immediately after.
| | | | | | | |
| --- | --- | --- | --- | --- | --- | --- |
| NLS-- | 000 | 000 | 0 | - 0 | 5 | 7 |
| Paynesville-- | 211 | 230 | x | - 9 | 7 | 3 |
New London-Spicer - Batting: Brett Krupke 2-4; Pitching: (ip-h-r-er-bb-k) Skip Toops (L) (6-7-9-1-5-0);
Paynesville - Batting: Josh Kampsen 2-3 HR R-2 RBI-2; Craig Thomes 2-3 RBI-2 R; Pat Rohe 2-3 R-2 RBI; Wes Lieser 1-4 SB; Pitching: (ip-h-r-er-bb-k) Josh Kampsen (W) (6-5-0-0-2-9); Jeremy Fuchs (1-0-0-0-0-2).
---
Contact the author at paypress@lkdllink.net • Return to Sports
Home | Marketplace | Community
---