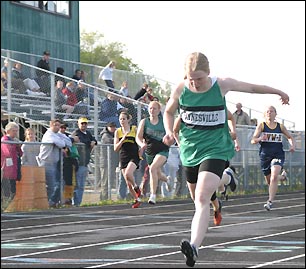 The Paynesville girls' track team gave the Annandale Cardinals a run for their money at the Subsection 20 meet last week, but Annandale won the subsection championship.

The Cardinals scored 145.5 points, with the Bulldogs second at 137, competing at home on Wednesday, May 20.

Ten Bulldog athletes qualified for sections by either placing in the top four in an individual event or in the top two in a relay. The Section 5A meet was held on Wednesday, May 28, at St. John's University.

Qualifying for sections were seniors Jen Berg, Morgan Martinson, and Mandy Mayer; junior Jessica Paul; sophomores Kendra Johnson and Brittany Lieser; ninth graders Tara Schmidt and Brooke Schmitz; and eighth graders Tanis Beireis and Kacy Nehowig.

Ninth grader Tara Schmidt crosses the finish line in first place during the 200-meter dash at subsections on Wednesday, May 21. Teammate Maggie Frieler (in the background) finished fifth in the race.

Paynesville had four first-place finishes: Schmidt in the 200-meter dash; Nehowig in the 3,200-meter run; Johnson in the 300-meter hurdles; and the 3,200-meter relay, consisting of Berg, Beireis, Mayer, and Nehowig.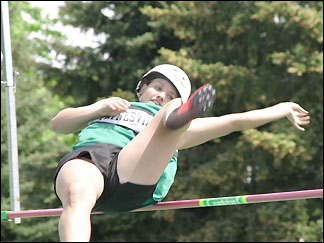 Runner-up finishes were turned in by Johnson in the 110-meter hurdles, Schmidt in the 100-meter dash, Schmitz in the 1,600-meter run, and Beireis in the 3,200-meter run.
Lieser was third in the high jump, and Johnson was fourth. Paul was fourth in the pole vault, and Martinson was fourth in the discus.
Johnson and Schmidt qualified for sections in three events. Beireis, Mayer, and Nehowig qualified in one individual event and the relay.
Junior Jessica Paul advanced to sections in the pole vault by clearing 7' and taking fourth place at subsections last week.
The Section 5A meet was held at St. John's University on Wednesday, May 28, starting at 11 a.m. At sections, the top two finishers in individual events and the top relay will qualify for the state track and field meet, which will be held on Friday and Saturday, June 6 and 7.
The top six placers at the subsection meet earned medals.

Team Scores
1. Annandale 145.5
2. Paynesville 137
3. Maple Lake 121
4. New London-Spicer 86.5
5. ACGC 84
6. EV-W/Kimball 74
7. BBE 44
Individual Results
100-meter hurdles: *Kendra Johnson, second, 17.5;
300-meter hurdles: *Johnson, first, 48.91; Beireis, eighth, 54.02;
100-meter dash: *Tara Schmidt, second, 13.63;
200-meter dash: *Schmidt, first, 27.82; Maggie Frieler, fifth, 29.75;
400-meter dash: *Mandy Mayer, fourth, 1:05.29; Megan Reeck, tenth, 1:09.16;
800-meter run: Jen Berg, sixth, 2:40.46; Jessica Kotten, 13th, 3:05.20; 1,600-meter run: *Brooke Schmitz, second, 5:36.78;
3,200-meter run: *Kacy Nehowig, first, 11:57.83; *Beireis, second, 12:28.46; Sheena Hoekstra, eighth, 14:42;
400-meter relay: Kacie Wander, Jessica Paul, Frieler, and Bari Behling, sixth, 55.86;
800-meter relay: Reeck, Behling, Frieler, and Kelly Schultz, fifth, 1:57.48;
1,600-meter relay: Mayer, Berg, Johnson, and Schmidt, third, 4:21.67;
3,200-meter relay: *Berg, Beireis, Mayer, and Nehowig, first, 10:25;
Discus: *Morgan Martinson, fourth, 104' 6"; Paul, 11th, 85' 7 1/2"; Peggy Thompson, 14th, 82';
Shot put: Martinson, fifth, 31' 11"; Paul, seventh, 30' 5"; Thompson, 14th, 24' 6";
High jump: *Brittany Lieser, third, 4' 10"; *Johnson, fourth, 4' 8"; Kelly Herzberg, seventh, 4' 6";
Long jump: *Schmidt, fourth, 14' 11"; Schmitz, eighth, 14' 5 1/4";
Triple jump: Mayer, eighth, 31'; Tanya Whitcomb, 11th, 28' 1";
Pole vault: *Paul, fourth, 7'; Lieser, seventh, 6' 6"; Beireis, ninth, 6'.
*Section qualifier
---
Contact the author at editor@paynesvillepress.com • Return to Sports
Home | Marketplace | Community
---