The Bulldogs boys' track team advanced eight athletes - in eight individual events and two relays - to the Section 5A meet this week at St. John's University.

Section competitors placed in the top four in an individual event or in the top two for a relay at the Subsection 20 meet on Wednesday, May 21, in Paynesville.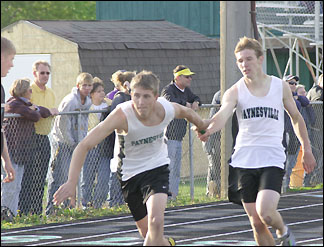 Advancing to the section meet in individual events were: junior Chad Wyffels in the 300-meter hurdles, junior Lee Fuchs-Thielen in the 100-meter dash and the triple jump; senior Milan Virant in the 400-meter dash; senior Tom Flannigan in the 800-meter run; senior Riley Flanders in the 3,200-meter run; senior Adam Leyendecker in the discus; and junior Troy-Fuchs Thielen in the long jump.
Junior Chad Wyffels passes the baton to senior Tom Flannigan during the 1,600-meter relay, won by the Bulldogs. Other relay members were seniors Josh Teicher and Milan Virant.
The Bulldogs also had two relays that advanced to the section meet. The 1,600-meter relay - or 4 by 400-meter relay - prevailed in the last event of the day. Wyffels, Flannigan, and senior Josh Teicher built a lead for the Bulldogs, and Virant was able to hold off hard-charging NL-S down the final stretch.
The 3,200-meter relay took second behind Annandale. Wyffels, Flannigan, Flanders, and Virant ran 800-meter legs on that relay.
Lee Fuchs-Thielen recorded the Bulldogs' only other first-place finish, winning the triple jump. He was the only Dog to advance in two individual events and could have advanced in three but scratched in all three attempts at the long jump.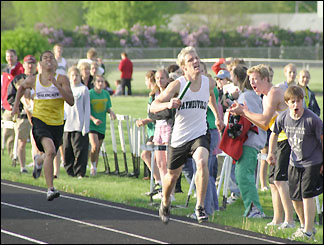 Flannigan, Virant, and Wyffels each advanced in three events: one individual event plus both relays. Flanders advanced in an individual event and one relay.
Annandale won the meet, scoring 221.5 points, topping ACGC by nearly 70 points. NL-S was third, and Paynesville was fourth as a team.
Senior Milan Virant holds onto the lead against a hard-charging runner from New London-Spicer during the home stretch for the 1,600-meter relay. The Bulldogs won the event at subsections on Wednesday, May 21.
"We had some excellent individual performances, but we could definitely see the lack of depth as a team come forward as Annandale was overpowering," said coach Darrel Carstens. "We really stressed the individual aspect before the meet, and it is going to be fun at sections watching the individuals and the two relay teams compete for the chance to go to state."
The Section 5A meet was held at St. John's University on Wednesday, May 28. The top two placers in individual events and the winning relay advance to state, which will be held in Blaine on Friday and Saturday, June 6 and 7.
Team scores
1. Annandale 221.5
2. ACGC 154.5
3. New London-Spicer 113
4. Paynesville 94
5. Maple Lake 55
6. BBE 27
7. EV-W/Kimball 23
Individual Results
110-meter hurdles: Ryan Glenz, fifth, 18.2;
300-meter hurdles: *Chad Wyffels, third, 45.1;
100-meter dash: *Lee Fuchs-Thielen, fourth, 12.3;
200-meter dash: *Milan Virant, second, 53.2;
400-meter dash: Virant, fourth, 53.2;
800-meter run: *Tom Flannigan, fourth, 2:08.5;
3,200-meter run: *Riley Flanders, second, 10:27.8;
400-meter relay: Lee Fuchs-Thielen, Glenz, Josh Teicher, and Troy Fuchs-Thielen, fourth;
800-meter relay: Ben Lingl, Glenz, Teicher, and Greg Price, sixth;
1,600-meter relay: *Wyffels, Flannigan, Teicher, and Virant, first, 3:36.7;
3,200-meter relay: Wyffels, Flannigan, Flanders, and Virant, second, 8:27.26;
Discus: *Adam Leyendecker, fourth, 117' 4";
High jump: Flannigan, fifth, 5' 8";
Long jump: Troy Fuchs-Thielen, fourth, 18' 7";
Triple jump: *Lee Fuchs-Thielen, first, 40' 6";
Pole vault: Aaron Bachman, fifth, 10' 6".
*Section qualifier
---
Contact the author at editor@paynesvillepress.com • Return to Sports
Home | Marketplace | Community
---