The Bulldogs boys' golf team ended their season by taking 12th at the subsection meet last week at Becker.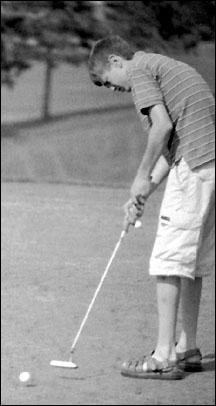 Sophomore Mitchell Mackedanz missed qualifying for sections by two strokes. He led the Bulldogs with an 18-hole total of 84, shooting splits of 40 and 44.
The last five individual section qualifiers shot 82s.
Ninth grader Justin Bork was the Bulldogs' fourth scorer at subsections, carding a 49-52=101.
Mackedanz works very hard to improve, said coach Todd Knudsvig, who added that he hopes he can advance next season.
The top ten individuals and top two teams advanced to the section meet, which was held this week at Rich-Spring Golf Course.
Second for the Bulldogs was senior Eric Gerding, who posted nine-hole scores of 45 and 48 for a total of 93. Ninth grader Ross Barten had two 49s for a 98, and ninth graders Justin Bork and Tom Stoneburner had 101s to complete the Dogs' team score.
Knudsvig was encouraged by the development of some of the young players on the team but stressed that real improvement comes on the golf course during the summer. "What makes a golf coach good is having kids that golf a lot in the summer," he said. "This is the first year that I can remember that we will have at least five or six boys that will golf a lot in the summer. That is the way that a team improves."
Team scores
1. Albany 318
2. New London-Spicer 319
3. LPGE 319
4. BBE 321
5. Pierz 336
6. St. Cloud Cathedral 339
7. Sauk Centre 340
8. Foley 341
9. Milaca 347
10. Melrose 362
11. EV-W/Kimball 371
12. Paynesville 376
13. St. John's Prep 386
14. Browerville 395
Individual Results
Paynesville - Mitchell Mackedanz 40-44=84; Eric Gerding 45-48=93; Ross Barten 49-49=98; Justin Bork 49-52=101; Tom Stoneburner 54-47-101; Tony Savage 52-53=105.
---
Contact the author at editor@paynesvillepress.com • Return to Sports
Home | Marketplace | Community
---