Senior Josh Kampsen and coach Brad Skoglund have been selected to participate in the 2003 Lions All Star Series. The annual series pits the best senior baseball players in the state against each other.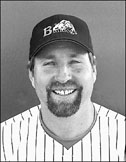 Skoglund (at left) - in his 15th year as the varsity baseball coach at Paynesville Area High School - took the Bulldogs to the high school state tournament for the first time in school history in June 2002. He is one of three coaches for the north team, which also has a coach from Class A and from Class AAA.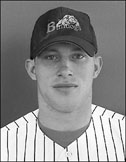 Kampsen (at right), the son of Bernie Kampsen and Liza Kampsen, was one of 20 players selected for the north team. Nearly 40 players from the northern half of the state were nominated for the team, said Skoglund, who selected the north team in May with his co-coaches.
The all-star series will also have a south team and two teams from the metro area (east and west).
The 2003 Lions All Star Series will be held in Chaska in June. Coaches will report on Wednesday, June 18. Players will report for practice and a banquet on Thursday, June 19. The teams will play one game on Friday, June 20, and they will play doubleheaders on Saturday, June 21.
Last year, Kampsen was named to the all-tournament team as the Bulldogs took fifth place in Class AA. This spring, Kampsen has batted .392 with five homeruns, including two grand slams. He has 18 RBIs and has stolen seven bases in eight attempts. On the hill, he has a 4-2 record with an ERA of 3.09.
Skoglund expects Kampsen, a versatile player, to play mostly third base in the all-star series.
ÒIÕm excited for Josh,Ó Skoglund said. ÒThatÕs really a great opportunity for him. The great thing this year is I get to coach him. That should be a lot of fun.Ó
Kampsen will become the fifth PAHS player to play in the all-star series, joining Lynn Hemmesch (1978), Marc Schmitz (1983), Ryan Wuertz (1996), and Doug Fuchs (2000).
---
Contact the author at editor@paynesvillepress.com • Return to Sports
Home | Marketplace | Community
---