In 2002, according to the Minnesota State High School League (MSHSL), Paynesville had the sixth best girls' track team in the state.

The Bulldogs placed sixth at state as a team in the MSHSL-sanctioned state meet despite having only two of their two dozen athletes compete at state. Senior Jen Hess won the 3,200-meter run and placed second in the 1,600-meter run, and senior Melissa Bachman was fourth in the pole vault, good for enough team points to place the Dogs sixth as a team while most of the team stayed home!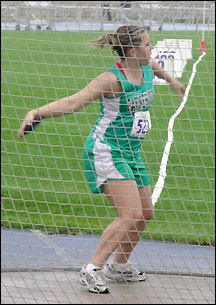 Track and field coaches' dissatisfaction with how the MSHSL determines the state team champion -╩based on points earned by individuals at the state meet - led the Minnesota Track and Field Coaches Association to establish the true team state meet in 1987.
Senior Peggy Thompson threw the discus 82'4" at state to place 11th.
The philosophy behind true team is: (1) That the existing system did not determine the true team champion; (2) To recognize overall team strength; (3) To discount team champions with only two, three, or four individuals scoring all the points; (4) To encourage more state participation with three divisions; (5) To provide fans with a more exciting team format; and (6) To encourage teams to develop all events and therefore encourage greater participation.
In a typical meet, only the top six or the top eight in each event earn team points. In a ten-team meet, that typically means that only the best girl from each school is going to score team points.
But true team requires each team to enter two girls in each event and points are awarded to all finishers. At the state true team meet, with nine teams, first place gets 18 points, second gets 17, and so on down to only one point for 18th place.
Relays, with four athletes, get even greater weight. At state, first got 27 points, second got 24, and so on, down to three points for ninth.
Getting points from both your best girl and your second best in each event really measures the quality of the whole team, Paynesville's coaches agreed. "It makes track a team sport," said assistant coach Todd Spanier.
Track coaches have lobbied the MSHSL for years to adopt the true team format, added Kyle Nehowig, another assistant and also the athletics coordinator at PAHS. But it is not possible to hold the true team on the same weekend as the regular state meet -╩unlike wrestling where the team and individual tournaments are held on the same weekend. Unless attendance at true team increases enough to make it profitable for the MSHSL, Nehowig doubts they will add it.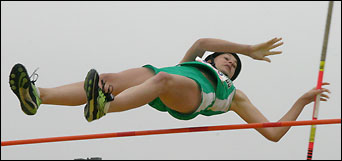 True team scoring is becoming so popular, added Nehowig, and new computer programs make it so easy to use it, that some schools are using true team scoring during regular season meets.
Ninth grader Tanis Beireis clears the bar during the pole vault at state. Beireis made 7' on Saturday and tied for 13th.
In a nine-team true team meet, the average score is first and 18th, or second and 17th, or third and 16th, all of which would generate 19 team points. Having both entrants in an event, though, really pays in true team. Placing first and third, for instance, would count for 34 points.
"That second person in true team is huge," said head coach Dave Randgaard.
This year, three-time defending state champion Mayer Lutheran -╩who finished third on Saturday - were moved from Paynesville's true team section, so the coaches knew that Paynesville had a chance to make it to state in true team. (Last year, Paynesville finished second among the wildcards, or tenth in the state.)
While Renville County West might have had as many studs as Paynesville in true team sections, Paynesville won the meet by having the better balance, said Randgaard.
The best thing about true team, said Nehowig, is that girls who might not have scored a team point all year suddenly become very important because everyone counts in true team.
So while the Bulldogs could not have made it to state without their top point scorers -╩senior Jessica Paul, juniors Kendra Johnson and Brittany Lieser, sophomore Tara Schmidt, and ninth graders Tanis Beireis and Kacy Nehowig - they also needed their depth.
That depth is why the addition of sophomore Ashley Lieser (who became the team's second hurdler) and the development of younger athletes, such as eighth grader Melanie Koerner (who ran the 400-meter dash and ran legs on two relays, earning All Conference honors this year) was so important.
The Bulldogs -╩whose only previous trip to state in true team came in 1996, when they finished sixth - only have two seniors this year, so Randgaard is hoping that this year's state experience will help the deep team reach state and place higher next year.
Along with having an athletic, coachable, fun squad this year, the coaches said they also had great leadership from their captains - seniors Paul and Peggy Thompson and juniors Johnson and Lieser. That helped the whole team -╩which featured six junior high athletes╩- get along well, they said.
---
Contact the author at editor@paynesvillepress.com • Return to Sports
Home | Marketplace | Community
---