The Paynesville girls' track team finished ninth in Class A at the state true team track meet on Saturday at the National Sports Center in Blaine.

The team had a disappointing day at state, ending up ninth in Class A. They failed to beat a team at the state meet, sponsored by the Minnesota State Track and Field Coaches Association.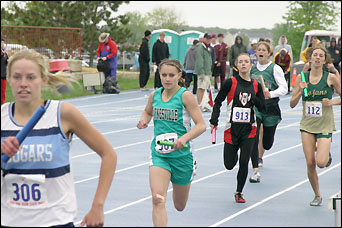 Nothing seemed to go right for Paynesville at state, starting with the weather (cold, wet, and windy). Injuries, lane assignments, lack-luster performances, a false start, and stiff competition left the Dogs in ninth.
Junior Kendra Johnson heads down the home stretch during the second leg of the 1,600-meter relay, the final event at the state meet on Saturday in Blaine, trailing the Cougar runner from Cedar Mountain. The Bulldogs finished ninth at state true team meet, while Cedar Mountain won the Class A girls' team title.
"We were the youngest team in the state meet and our inexperience showed in this meet," said coach Dave Randgaard. "We were thinking we could place anywhere from fifth to seventh at this meet, but we made some mistakes and didn't perform up to our ability."
"You could tell it was the first trip to state for such a young team. We only have two seniors out of 25 girls on the team, so we will use this as a learning experience for next season. We were proud of the effort put forth by the team," Randgaard added.
The Dogs also had just won the conference title on Thursday in another big meet that left the team with little time to recover.
Cedar Mountain won the state championship with 443 points, ending the three-year run by Mayer Lutheran at the meet. Mayer Lutheran was third with 381 points, with Maple Lake finishing second at 389.5 points. (Maple Lake edged the Dogs by one point at a meet in Paynesville in April.)
In true team track, each team enters two individuals in running and field events and one team in each relay. Every entry earns team points, with the format geared to judge teams on their overall talent and depth.
While in a typical meet, only the top six or eight placers will earn team points. In true team, each entrant earns team points, making the format a better judge of the overall talent and depth of a team.
At state, with nine teams, first-place finishers earned 18 points, second place earned 17, etc., with the 18th finisher earning one team point. Relays earned 27 points for first place, down to three points for ninth place.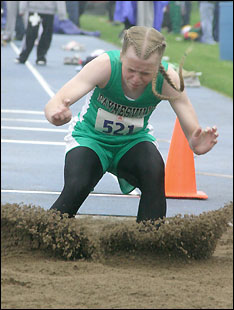 The average score in an event at a true team meet is having the first and last placer in the event. At state, the average for each event was 19 points. Paynesville scored more than the average in only two events at state: the 1,600-meter run and the 3,200-meter run.
Sophomore Tara Schmidt lands in the pit after a long jump attempt at state true team on Saturday.
Ninth grader Kacy Nehowig led the Dogs with two top five finishes. She was fourth in the 3,200-meter run and fifth in the 1,600-meter run. Ninth grader Tanis Beireis was ninth in the 1,600-meter run, where Paynesville scored 24 team points, its best event. Eighth grader Rheanne Zimmerman was 13th in the 3,200-meter run, which gave the Dogs 21 points in that event.
The Dogs came close to average in six other events: 300-meter hurdles (18.5 team points), discus (18 points), 100-meter hurdles (17 points), 800-meter run (16 points), shot put (16 points), and 200-meter dash (15 points).
In winning the section title (a ten-team meet), by contrast, the Dogs scored over 30 points in eight events and their lowest score was 18 points.
At state, the Dogs scored ten or fewer points in seven events.
Top ten individual finishes for the Dogs were recorded by: Nehowig (fourth in the 3,200-meter run and fifth in the 1,600-meter run); junior Kendra Johnson (fourth in the 300-meter hurdles and seventh in the 100-meter hurdles); sophomore Tara Schmidt (seventh in the 100-meter dash and eighth in the 200-meter dash); senior Jessica Paul (ninth in the discus and ninth in the shot put); Beireis (ninth in the 1,600-meter run); and eighth grader Kaitlyn Frenchick (ninth in the 800-meter run).
Among the misfortune that the Dogs suffered at the meet, Schmidt hurt her leg during the 400-meter run, and junior Brittany Lieser hurt her knee in the triple jump.
A few Dogs improved their performances from the section true team meet, but against the stiff competition at state it did not significantly help their placing. Sophomore Megan Reeck jumped six inches farther in the long jump, but she still placed two spots lower than she had at sections due to the competition. Beireis cleared another foot and a half in the pole vault, but her place dropped from ninth to 13th. Lieser jumped two inches higher in the high jump but her place fell from fifth to 13th. Eighth grader Melanie Koerner ran the identical time at state that she had at sections in the 400-meter dash, but her place fell from eighth to 13th.
The Dogs did not place in the top half in any relay. Their best relay finish was sixth, in both the 400-meter relay and 1,600-meter relay. Their 800-meter relay team came within 0.3 seconds of their season best time, run at sections where they finished second, but they were eighth on Saturday.
In the Dogs' only previous trip to state true team, they placed sixth in 1996 in Class A.
Next year, the Dogs could vie for a return trip to true team state, since they only have two seniors on the team. They will need to replace five events in their true team lineup next spring.
Team scores
1. Cedar Mountain 443
2. Maple Lake 389.5
3. Mayer Lutheran 381
4. United South Central 379
5. Rushford-Peterson/Houston 339.5
6. Pierz 268
7. Warren/Alvarado/Oslo 247.5
8. Hawley/Ulen-Hitterdal 246
9. Paynesville 237.5
Individual Results
100-meter hurdles: Kendra Johnson, seventh, 17.27; Ashley Lieser, 14th, 18.52; 17 team points.
300-meter hurdles: Johnson, fourth, 49.80; Lieser, 15th (tie), 53.40; 18.5 points.
100-meter dash: Tara Schmidt, seventh, 13.37; Bri Jaeger, 18th, False Start; 13 points.
200-meter dash: Schmidt, eighth, 27.93; Jaeger, 15th, 28.68; 15 points.
400-meter dash: Melanie Koerner, 13th, 1:06.38; Schmidt, 17th, 1:08.65; 8 points.
800-meter run: Kaitlyn Frenchick, ninth, 2:36.74; Tanis Beireis, 13th, 2:40; 16 points.
1,600-meter run: Kacy Nehowig, fifth, 5:38.39; Beireis, ninth, 5:50.23; 24 points.
3,200-meter run: Nehowig, fourth, 12:07.0; Rheanne Zimmerman, 13th, 13:26.65; 21 points.
400-meter relay: Kacie Wander, Randi Schaefer, Kally Felling, and Jess Paul, sixth, 55.29.7; 12 points.
800-meter relay: Ashley Lieser, Kally Felling, Leah Felling, and Jaeger, eighth, 1:57.18; 6 points.
1,600-meter relay: Koerner, Johnson, Frenchick, and Beireis, seventh, 4:26.74; 9 points.
3,200-meter relay: Kally Felling, Zimmerman, Koerner, and Frenchick, sixth, 10:38.97; 12 points.
Discus: Paul, ninth, 84' 2"; Peggy Thompson, 11th, 82' 4"; 18 points.
Shot put: Paul, ninth, 28' 4"; Natalie Leadem, 13th, 26' 7"; 16 points.
High jump: Johnson, 13th, 4' 8"; Brittany Lieser, 13th, 4' 8"; 8 points.
Long jump: Schmidt, 15th, 13' 9"; Megan Reeck, 16th, 13' 5 1/2"; 7 points.
Triple jump: Brittany Lieser, 15th, 29' 10"; Frenchick, 26th, 28' 2 1/4"; 7 points.
Pole vault: Beireis, 13th, 7'; Paul, 13th, 7'; 10 points.
---
Contact the author at editor@paynesvillepress.com • Return to Sports
Home | Marketplace | Community
---