The Bulldogs boys' golf team tied for fifth place in the West Central Conference North, escaping the cellar for the first time in years.

Paynesville finished fifth at Albany on Monday, May 17, and tied with Melrose for fifth place in the season standings.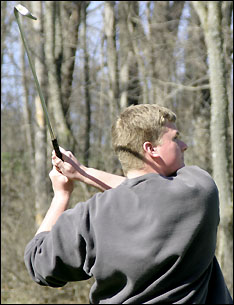 Junior Mitchell Mackedanz took third at Albany, shooting 37, and finished second in the overall conference standings individually, earning All Conference honors for the second straight year.
At Albany, sophomore Ross Barten shot 43, junior Cody Flanders shot 44, and seventh grader Zach Fuchs shot 47. The Dogs' team total was 171, trailing Melrose by seven strokes but beating Cathedral by two shots.
Junior Mitchell Mackedanz shot 37 at Albany last week, finishing the conference season third individually and earning All Conference honors.
Albany won the final meet and claimed the overall team title. The Huskies shot 151 at home last week, averaging under 38 strokes per player, including 34 by medalist John Evens, who beat Mackedanz by five strokes for the individual conference title.
The final conference standings - giving six points for a first-place finish, five for second, etc., down to one point for sixth - were: Albany, 32; Sauk Centre, 29; LPGE, 24; Cathedral, 17; Paynesville, 12; Melrose, 12.
"The boys moved up a step and tied for fifth in the conference," said coach Todd Knudsvig. "We have to keep moving up next year to fourth or third."
Mackedanz averaged 38.4 strokes per round in conference play (counting his five best scores out of six meets, the criteria used for All Conference selection). Evens averaged 37.4 strokes for Albany.
Sophomore Justin Bork was next for the Bulldogs in the individual standings, finishing tied for 15th in conference play, averaging 42.6 strokes per round. Bork had a chance to earn All Conference honors going into the final meet; he would have needed to shoot 41 or better at Albany to finish in the top ten individually. But he shot 48.
Barten averaged 44.8 strokes per round in conference play, Fuchs averaged 45.4, Flanders averaged 48.2, and senior Nick Nelson averaged 52.8.
This week, the Dogs will play in the subsection tournament at Becker on Wednesday, May 26, starting at 12 noon.
The top four teams and the top ten individuals will advance to sections, which will be held on Tuesday, June 1, at 12 noon at Rich-Spring Golf Course between Richmond and Cold Spring.
Team scores
1. Albany 151
2. Sauk Centre 158
3. LPGE 161
4. Melrose 164
5. Paynesville 171
6. Cathedral 173
Individual Results
Paynesville - Mitchell Mackedanz (3) 37; Ross Barten 43; Cody Flanders 44; Zach Fuchs 47; Justin Bork 48; Cody Burr 55; Nick Nelson 55.
---
Contact the author at editor@paynesvillepress.com • Return to Sports
Home | Marketplace | Community
---