The Paynesville girls' track team placed seventh in Class A at the state true-team meet on Saturday at the National Sports Center in Blaine. The Dogs, competing at state for the second straight year, improved greatly at state, scoring 72 more points than a year ago.

The Dogs improved their team scoring in 12 of the 14 individual events this year. And they scored more points in the four relays this year than last, buoyed by a first-place finish in the 800-meter relay, with senior Kendra Johnson, eighth grader Bri Jaeger, eighth grader Kally Felling, and junior Tara Schmidt winning that event.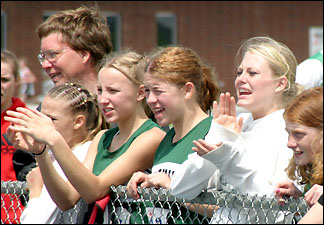 Schmidt also won the 100-meter dash, the other first-place perfor-mance for the Dogs on Saturday.
These first-place finishes, in back-to-back events, put the Dogs into second place in the nine-team meet after five events. The Dogs slipped to fourth after eight events and were still in fifth entering the final event, the 1,600-meter relay.
Members of the girls' track team, from left, head coach Dave Randgaard, eighth grader Bri Jaeger, eighth grader Erin Guzy, ninth grader Melanie Koerner, and senior Rachael Wendlandt - cheer for a teammate at the Class A true team state meet on Saturday, May 21,in Blaine. Photo page
But the Dogs led United South Central/Alden-Conger by only 3.5 points and Agassiz Valley by only 8.5 points entering the relay, and the Dogs finished ninth with Agassiz Valley fifth and USC/Alden-Conger seventh. Agassiz Valley edged USC/Alden-Conger by one point for fifth with the Dogs three and a half points back in seventh.
"The girls' track team really improved on last year's state meet, scoring 309 points to 237 points (72 points higher)," said coach Dave Randgaard. "We moved up from ninth to seventh and were really in fourth/fifth for most of the meet."
Cedar Mountain won their second straight true-team title in Class A on Saturday.
True-team scoring is designed to judge the entire depth of the team. Each team enters two participants in individual events and one relay. In contrast to regular track meets, where only the top six or top eight earn team points, every finisher is ranked in true-team scoring.
So a first-place finish in an individual event is worth 18 points, second place 17, etc., until one point for 18th. Relays were worth 27 points for first, 24 for second, etc., down to three points for ninth on Saturday.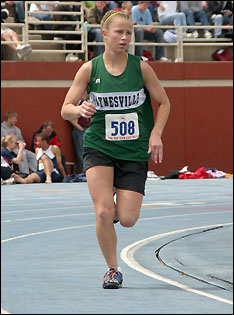 On Saturday, the Dogs' top events were the 400-meter dash (28 points), 800-meter relay (27 points), discus (26 points), 100-meter dash (26 points), 200-meter dash (25 points), 300-meter hurdles (22 points), 1,600-meter run (21 points), and 3,200-meter run (21 points).
Jaeger and Felling finished third and seventh in the 400-meter dash, earning the Dogs 28 team points, 20 more than last year in that event. They also both ran legs on the winning 800-meter relay, along with Johnson and Schmidt.
Sophomore Kacy Nehowig rounding a corner during the 3,200-meter run, where she placed second. In the discus - an early-morning event into the wind and rain - ninth grader Natalie Leadem was fifth, and sophomore Randi Schaefer was seventh for the Dogs, earning 26 team points.
Schmidt - who was first in the 100-meter dash and third in the 200-meter dash - teamed with Felling and Jaeger to score 26 points in the 100-meter dash (where Felling was 11th) and 25 points in the 200-meter dash (where Jaeger was 10th).
Johnson was fourth in the 300-meter hurdles (and fifth in the 100-meter hurdles) and teamed with eighth grader Anna Kotten (12th) in the 300-meter hurdles.
Sophomore Kacy Nehowig was second in the 3,200-meter run where the Dogs earned 21 team points and was seventh in the 1,600-meter run (where ninth grader Kaitlyn Frenchick was tenth) to earn 21 points in both events.
Other top-ten finishes for the Dogs (excluding the relays) were recorded by Frenchick (fifth in the triple jump), Johnson (tied for sixth in the high jump), and Schaefer (ninth in the shot put).
The Dogs were rated seventh in Class A before the meet and finished seventh at true team, noted Randgaard. The team, like last year, has only two seniors this year.
"Our meet management was excellent in this meet," said Randgaard. "We were much more comfortable and focused at this year's meet; having been there last year really did help. We are still very young for teams at state."
The weather at the state meet was rainy and windy in the morning, forcing the high jump and pole vault to be held indoors. The rain, though, stopped around 11 a.m., when the running events started, and the sun appeared in the afternoon. The Class A competition finished around 3 p.m.
This week, the Dogs will start individual quests for the state meet with subsections at Belgrade-Brooten-Elrosa High School on Wednesday, May 25, starting at 3 p.m.
Team Scores
1. Cedar Mountain 437.0
2. Mayer Lutheran 363.0
3. Pine Island 354.0
4. Rushford-Peterson 352.5
5. Agassiz Valley 312.5
6. United South Central 311.5
7. Paynesville 309.0
8. Pierz 254.5
9. Deer River-Northland 240.0
Individual Results
100-meter hurdles: Kendra Johnson, fifth, 17.63; Anna Kotten, 14th (tie), 19.13; 18.5 points;
300-meter hurdles: Johnson, fourth, 48.58; Kotten, 12th, 53.3; 22 points;
100-meter dash: Tara Schmidt, first, 13.64; Kally Felling, 11th, 14.66; 26 points;
200-meter dash: Schmidt, third, 27.8; Bri Jaeger, 10th, 28.5; 25 points;
400-meter dash: Jaeger, third, 1:02.93; Felling, seventh, 1:04.21; 28 points;
800-meter run: Kaitlyn Frenchick, 13th, 2:38.07; Melanie Koerner, 17th, 2:44.48; 8 points;
1,600-meter run: Kacy Nehowig, seventh, 5:52.22; Frenchick, 10th, 5:59.44; 21 points;
3,200-meter run: Nehowig, second, 12:39.43; Tanis Beireis, 15th, 14:25.54; 21 points;
400-meter relay: Kacie Wander, Randi Schaefer, Leah Felling, and Kirsten Miller, eighth, 56.28; 6 points;
800-meter relay: Johnson, Jaeger, Kally Felling, and Schmidt, first, 1:50.26; 27 points;
1,600-meter relay: Frenchick, Miller, Leah Felling, and Nehowig, ninth, 4:27.54; 3 points;
3,200-meter relay: Koerner, Erin Guzy, Leah Felling, and Beireis, eighth, 11:04.92; 6 points;
Discus: Natalie Leadem, fifth, 88' 8"; Schaefer, seventh, 82' 6"; 26 points;
Shot put: Schaefer, ninth, 29' 7"; Leadem, 11th, 27' 8 1/2"; 18 points;
High jump: Johnson, sixth (tie), 4' 8"; Schaefer, 14th (tie), 4' 6"; 16.5 points;
Long jump: Schmidt, tenth, 14' 4 3/4"; Rachael Wendlandt, 17th, 13' 10"; 11 points;
Triple jump: Frenchick, fifth, 32' 5 1/2"; Beireis, 28', 18th; 15 points;
Pole vault: Beireis, 12th (tie), 7'; Kotten, 12th (tie), 7'; 11 points.
---
Contact the author at editor@paynesvillepress.com • Return to Sports
Home | Marketplace | Community
---