Junior Aaron Bachman won the pole vault at the conference meet for the second straight year and earned All Conference honors for the third time in track last week. Eighth grader Nathan Friederichs placed second in the pole vault to earn All Conference honors as well.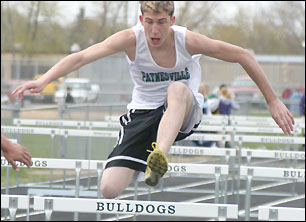 The pole vault competition was held on Wednesday, May 18, at Long Prairie, while the rest of the meet was held on Thursday at Melrose. (Melrose does not have pole vault pits, thus forcing the schedule.)
Bachman won the event by clearing 10' while Friederichs was second by clearing 9' 6". Their sweep of the pole vault was the highlight of the meet, according to coach Todd Spanier.
Sophomore Travis Flannigan placed in three individual events - hurdles, high jump, and triple jump - for the Dogs at the conference meet last week.
Senior Eric Hansen placed in four events for the Dogs, running fifth in the 100-meter dash, placing seventh in the long jump, and running legs on two relays.
Sophomore Travis Flannigan placed in all three of his events, too, running fourth in the 110-meter hurdles, finishing sixth in the triple jump, and taking seventh in the high jump. Flannigan was close to earning All Conference honors in the hurdles until hitting the last hurdle, said Spanier.
Other individual placers for the Dogs were: senior Josh Binsfeld (sixth in the discus), sophomore Dugan Flanders (sixth in the 3,200-meter run), and ninth grader Alex Svejkovsky (eighth in the 200-meter run). Svejkovsky also had a personal best in the discus, noted Spanier, with a throw over 95'.
With a young team, Spanier noted that the Dogs' 1,600-meter relay team broke the school's eighth grade record. Due to the cold weather this spring, several junior high meets have been cancelled, so seventh grader Kohl Nehowig, eighth grader Jamison Wall, eighth grader Kody Nehowig, and Friederichs broke the old record by 13 seconds. Their time was 4:15.06, breaking the old record of 4:28.3.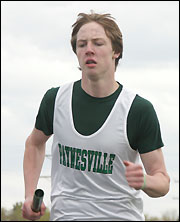 Wall had previously set a new eighth grader record in the 3,200-meter run with a time of 11:58.43, noted Spanier.
Eighth grader Nathan Friederichs - shown running a relay leg - earned All Conference honors by placing second in teh pole vault.
And seventh grader Matt Schmiesing has broken the seventh grade shot put record with a throw of 38' 3". The previous record was 36' 2", set by Loren Lorenz in 1972, the oldest seventh grade record. Schmiesing has topped 36' in the shot put several times this spring, added Spanier.
This week, the Dogs will start individual quests for the state meet with subsections at Belgrade-Brooten-Elrosa High School on Wednesday, May 25, starting at 3 p.m.
Team Scores
1. Cathedral 193
2. LPGE 138
3. Melrose 120
4. Albany 85
5. Sauk Centre 75
6. Paynesville 60
Individual Results
110-meter hurdles: Travis Flannigan, fourth, 17.33;
100-meter dash: Eric Hansen, fifth, 11.89;
200-meter dash: Alex Svejkovsky, eighth, 25.92;
3,200-meter run: Dugan Flanders, sixth, 11:09.08;
400-meter relay: Curt Forster, Hansen, Aaron Bachman, and Bryce Fischbach, third, 47.56;
800-meter relay: Alex Jewell, Forster, Hansen, and Fischbach, fourth, 1:42.12;
1,600-meter relay: Kohl Nehowig, Jamison Wall, Kody Nehowig, and Nathan Friederichs, fifth, 4:15.06;
3,200-meter relay: Wall, Kody Nehowig, Friederichs, and Flanders, fifth, 9:47.9;
Discus: Josh Binfeld, sixth, 107' 5";
High jump: Flannigan, seventh, 5' 2";
Long jump: Hansen, seventh, 16' 10";
Triple jump: Flannigan, sixth, 37' 4";
Pole vault: Bachman, first, 10' (All Conference); Friederichs, second, 9' 6" (All Conference).
---
Contact the author at editor@paynesvillepress.com • Return to Sports
Home | Marketplace | Community
---