Senior Aaron Bachman won the conference pole vault title for the third straight year and earned All Conference honors for the fourth time in track and field at the West Central Conference North meet at New London-Spicer on Thursday.

Bachman cleared 12' - a foot more than the second-place finisher - to win the pole vault title for the third straight year.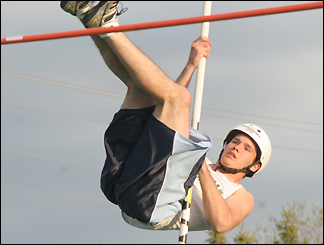 He was the only PAHS boy trackster to earn All Conference honors, as the Dogs finished seventh as a team.
The top two individuals and top two relays each earned All Conference honors.
Senior Aaron Bachman won the WCC North title in the pole vault for the third straight year last week, clearing 12 feet.
St. Cloud Cathedral won the conference team title, outscoring host NL-S 182.0 to 154.5.
The Dogs edged Minnewaska 37.0 to 34.5 for seventh. "We finished seventh out of eight, which is where we should have finished," said coach Todd Spanier.
In addition to Bachman's winning the pole vault, other highlights for the Dogs were sophomore Alex Svejkovsky placing in three events (two individual events and a relay), junior Dugan Flanders placing in both the 1,600-meter and 3,200-meter runs, and ninth grader Nathan Friederichs placing in both the pole vault and the high jump.
Svejkovsky threw a personal best in the discus to place sixth and placed eighth in the 200-meter dash, in addition to helping the 800-meter relay (with juniors Aaron Burris, Bryce Fischbach, and Matt Hansen) to place fourth.
Flanders ran a personal best to place sixth in the 1,600-meter run and later placed eighth in the 3,200-meter run. Flanders led three personal bests for the Dogs in the 1,600-meter run with ninth grader Ezra Thompson and eighth grader David Ruprecht both running personal bests.
Friederichs recorded the other top-five finish for the Dogs, taking fourth in the pole vault. Last year, he earned All Conference honors by placing second at the conference meet, but the addition of Minnewaska and NL-S (which had the second- and third-place finishers respectively) to the WCC North this year, relegated him to fourth despite vaulting a foot higher this year.
Other individual placers for the Dogs at the conference meet were ninth grader Travis Jimenez (seventh in the 110-meter hurdles) and senior Tom Stoneburner (eighth in the 400-meter dash).
Eighth grader Matt Schmiesing last week broke the school's eighth grade record in the discus at a junior high meet. His throw of 139' 7" topped the record of 129' 10" set by Larry Voss in 1975.
This week, the Dogs will attempt to advance athletes to sections at the subsection meet at PAHS on Wednesday, May 24, at 3 p.m. The top two relays and top four individuals in each event will advance to sections on Wednesday, May 31, at St. John's University.
Last year, the Dogs did not advance anyone to sections, and doing so this year is a team goal.
Team Scores
1. St. Cloud Cathedral 182.0
2. New London-Spicer 154.5
3. Melrose 89.0
4. LPGE 76.0
5. Sauk Centre 70.0
6. Albany 56.0
7. Paynesville 37.0
8. Minnewaska 34.5
Individual Results
110-meter hurdles: Travis Jimenez, seventh, 18.35;
200-meter dash: Alex Svejkovsky, eighth, 15.76;
400-meter dash: Tom Stoneburner, eighth, 59.32;
1,600-meter run: Dugan Flanders, sixth, 4:52.6 (personal best);
3,200-meter run: Flanders, eighth, 11:08.5;
400-meter relay: Curt Forster, Kohl Nehowig, Jordan Spaeth, and Jimenez, eighth, 49.47;
800-meter relay: Aaron Burris, Bryce Fischbach, Svejkovsky, and Matt Hansen, fourth, 1:40.30;
1,600-meter relay: Mitch Marlow, Kohl Nehowig, Fischbach, and Stoneburner, seventh, 3:59.41;
3,200-meter relay: Nathan Friederichs, Kody Nehowig, Tanner Wendroth, and Jamison Wall, seventh, 9:33;
Discus: Svejkovsky, sixth, 115' 3" (personal best);
High jump: Friederichs, eighth, 5' 4";
Pole vault: Aaron Bachman, first, 12' (All Conference); Friederichs, fourth, 10' 6".
---
Contact the author at editor@paynesvillepress.com • Return to Sports
Home | Marketplace | Community
---