Tracksters finish second at conference meet
This article submitted by Michael Jacobson on 5/24/00.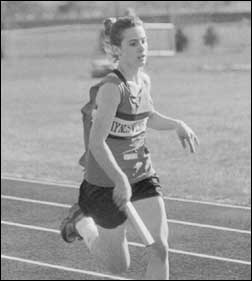 The time has come for the Paynesville girls' track team to begin their tough meets, and they started with a runner-up finish at the West Central Conference North track meet at St. John's University last Thursday.

Paynesville scored 113 points and trailed Long Prairie-Grey Eagle, who won with 164. "We lost to a very good team, but still had a good meet," said coach Dave Randgaard.

Sophomore Jenny Hess and senior Tiffany Rausch earned All Conference honors at the meet. Hess earned dual All Conference honors by placing first in the 1,600-meter run and first in the 3,200-meter run.

Rausch also earned honors in the 400-meter dash by getting first place with a time of 1:01.7. Right behind Rausch was Carin Frenchick coming in in fifth place with a time of 1:03.5. Rausch also was third in the 200-meter dash.

Also in the 3,200-meter run, Amanda Mayer ran her personal best with a time of 5:42 for fourth place.

Pictured at left is Sara Lieser who helped the girls' 800-meter relay team take fifth in the conference meet.

The Bulldogs also took third place in two relays. The 3,200-meter relay team members were Leanne Kolb, Sara Lieser, Mindy Meagher, and Jana Zumwalde. The team members for the 1,600-meter relay, the last event, were: Danielle Lieser, Carla Hemmesch, Mayer, and Frenchick. They were third in a time of 4:21.

Sophomore Ashley Wall has been working hard and it paid off when she placed third in the high jump with a leap of 4' 8". Ninth grader Hannah Braun scored points for the Bulldogs with a fourth-place finish in the pole vault. Teammate Joy Hemmesch was fifth, as well as fourth in the discus.

The girls' track team will host the Sub-Section meet at Paynesville Area High School on Thursday. The top four individuals and the top two relay teams at this meet will advance for the section meet. The meet starts at 2 p.m. See the shaded box for the approximate starting times for each event.

"Our biggest competition is ACGC, and so we have to fight to get our fifth consecutive Sub-Section championship." said Randgaard.

Team scores
1. Long Prairie -164
2. Paynesville -113
3. Litchfield -105.5
4. Sauk Centre -95
5. Albany -81
6. Melrose -72
7. St. Cloud Cathedral -44

Individual Results
300-meter hurdles: Katrina Orbeck, eighth, 53.9;
100-meter dash: Courtney Karsch, fifth, 13.2;
200-meter dash: Tiff Rausch, third, 27.3;
400-meter dash: Rausch, first, 1:01.7; Carin Frenchick, fifth, 1:03.5;
800-meter run: Frenchick, second, 2:32.8; Amanda Mayer, fifth, 2:37;
1,600-meter run: Jenny Hess, first, 5:08.8; Mayer, fourth, 5:42 (personal best);
3,200-meter run: Hess, first, 11:00.4; Jana Zumwalde, eighth, 14:29;
400-meter relay: Karsch, Heidi Jansen, Joy Hemmesch, Carla Hemmesch, fifth, 54.7;
800-meter relay: Jansen, Sara Lieser, Mindy Meagher, Carla Hemmesch, fifth, 1:58.16;
1,600-meter relay: Danielle Lieser, Carla Hemmesch, Mayer, Frenchick, third, 4:21;
3,200-meter relay: Leanne Kolb, Sara Lieser, Meagher, Zumwalde, third, 11:12;
Discus: Joy Hemmesch, fourth, 92' 3"; Ashley Wall, seventh, 83';
Shot put: Jansen, fifth, 31' 4"; Joy Hemmesch, eighth, 29' 9";
High jump: Wall, third, 4' 8";
Long jump: Danielle Lieser, sixth, 15' 0";
Triple jump: Mayer, eighth, 30' 10";
Pole vault: Hannah Braun, fourth, 7' 6"; Joy Hemmesch, fifth, 7' 0".
---