Sportsmen's Club holds first fishing tournament
This article submitted by Michael Jacobson on 5/24/00.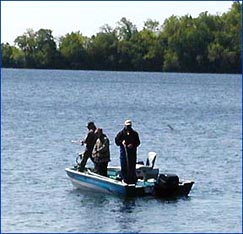 John Liestman and Dave Heitke won the first fishing contest of the season, sponsored by Paynesville's Sportsmen's Club. Fishing for walleyes on Lake Koronis on Tuesday, May 16, Liestman and Heitke caught six fish weighing a total of 13 pounds and nine ounces.

Rick and Pat Deegan were second with one fish weighing three pounds and five ounces. Third place was Kip Wendlandt and Doug Schmiginsky with a fish weighing one pound and five ounces.

The Sportsmen's Club will be holding tournaments every two weeks throughout the summer. The next tournament will be on Rice Lake on Tuesday, May 30. Other tournament dates are June 13 on Lake Koronis, June 27 on Rice, July 11 on Koronis, July 25 on Rice, August 1 on Koronis, and August 8 on Rice.

All the tournaments are for walleyes, except for the June tournaments, which will be for bass, northern pike, and walleye.

The tournaments start at 6:30 p.m. and end at 9:30 p.m. On Rice Lake, the starting point is the new access, and on Koronis the access by the five-mile bridge. The entry fee for each two-man boat is $19.99. The tournaments have 100 percent pay back.

Prizes will be awarded and a free lunch served at the Dog Haus following each contest.

A championship tournament will be on Lake Koronis on Sunday, Aug. 13, from 8 a.m. to 3 p.m.

For more information, call Jim Stanger at 320-243-3368 or Dean Schmidt at 320-243-7107.
---