Dawgs claim conference track title
This article submitted by Andrew Jones on 5/24/00.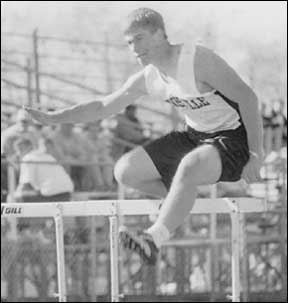 The Paynesville boys' track team took the conference title on Thursday. "This was a great team win," said coach Darrel Carstens. "All of the athletes did great."

Paynesville ended up with a total of 12 All Conference honorees. To obtain All Conference status, an athlete must place first or second in their respective event.

Paynesville was led by seniors Jeff Voss and Luke Trees, who earned All Conference status in three events apiece. Voss took first in the 300-meter hurdles, second in the 110-meter hurdles, and another second in the pole vault.

Adam Schaefer finished fifth in the 110-meter hurdles and sixth in the 300-meter hurdles at the conference championship.

Trees was first in the high jump with a leap of 6' 2", second in the triple jump, and was part of the Bulldogs' winning 1,600-meter relay team, with Travis Flanders, Eric Korman, and Eric Rausch.

Junior Clayton Lang took second in both the 1,600- and 3,200-meter races.

Other All Conference athletes were the 3,200-meter relay team of Travis Flanders, Ryan Flanders, Riley Flanders, and Korman, who placed second; Steve Flint, second in the shot put; Josh Bork, second in the discus; and Josh Trees, second in the high jump.

The Bulldogs depth in each and every event led them to victory, 172-156 over Litchfield. The Bulldogs placed in the top six in every event and had multiple place winners in 12 of the 14 events. In some events, the Bulldogs had three athletes place.

Carstens gives a lot of credit to the assistant coaches. "Coaches Scott George, Darin Carstens, and Kyle Nehowig have done a great job," he said. Those coaches help the team with a lot of the field event competitions and other things that take an expert to teach.

The team will compete for the sub-section crown at home on Thursday. The meet starts at 2 p.m. See the shaded box for an approximate schedule of events.

Team scores
1. Paynesville -172
2. Litchfield -156
3. St. Cloud Cathedral -101
4. LPGE -93
5. Melrose -84
6. Albany -30
7. Sauk Centre -23

Individual results
110-meter hurdles: Jeff Voss, second, 15.21; Adam Schaefer, fifth, 18.04;
300-meter hurdles: Voss, first, 40.84; Schaefer, sixth, 45.27;
100-meter dash: Josh Trees, sixth, 11.79; Voss, seventh, 11.82; Chris Wendlandt, eighth, 12.31;
200-meter dash: Luke Trees, sixth, 24.3; Eric Rausch, eighth, 24.8;
400-meter dash: Rausch, third, 52.91;
800-meter run: Eric Korman, sixth, 2:08;
1,600-meter run: Clayton Lang, second, 4:38; Dan Pearson, fourth, 4:44; Adam Utsch, eighth, 4:54;
3,200-meter run: Lang, second, 10:16; Utsch, fourth, 10:38; Pearson, fifth, 10:48;
400-meter relay: Wendlandt, Ryan Whitcomb, John Brady, Scott Thompson, fifth, 49.34;
800-meter relay: Wendlandt, Andrew Jones, Brady, Schaefer, third, 1:40.16;
1,600-meter relay: Travis Flanders, Korman, L. Trees, Rausch, first, 3:38;
3,200-meter relay: Travis Flanders, Korman, Ryan Flanders, Riley Flanders, second, 9:01;
Discus: Josh Bork, second, 128' 4"; Steve Flint, third, 122';
Shot put: Flint, second, 42' 6"; Bork, seventh, 39' 11.5";
Long jump: Brady, third, 19' 4.5"; L. Trees, fourth, 19' 3.5"; Jones, eighth, 17'9.5";
High jump: L. Trees, first, 6' 2"; J. Trees, second, 6' 0";
Triple jump: J. Trees, second, 40' 2.5"; Whitcomb, third, 38' 9"; Jones, fourth, 36'4"
Pole vault: Voss, second, 11' 6"; Nic Glenz, fourth, 10'.
---