Ryan Wall qualifies for sections with 82
This article submitted by Michael Jacobson on 5/24/00.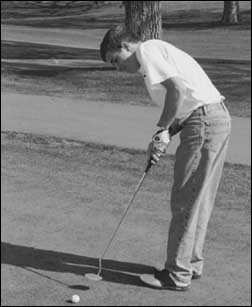 Senior Ryan Wall shot a 82 in sub-section competition on Monday in Kimball and will be the Bulldogs' lone representative in the sectional competition. That competition will be held on Thursday, May 30, at Rich-Spring Golf Course between Richmond and Cold Spring.

A full account of the sub-sectional competition will be in next week's paper. Wall also shot 39 to lead the Bulldogs in their last West Central Conference meet at Sauk Centre on Tuesday, May 16. The Bulldogs finished seventh in the meet and in the final conference standings.

Medalist honors at the meet were taken by Long Prairie-Grey Eagle's Josh Meyer with a 37.

Albany won the meet on a tie-breaker with LPGE at 157 and won the overall conference title on a tie-breaker with St. Cloud Cathedral. The Bulldogs also finished seventh in the overall conference standings.

Nathan Glenz shot a 44 for the Bulldogs, Eric Gerding (pictured at right) shot a 46, and Corey Schmitt shot a 49. The team's total was 179.

at Sauk Centre, Tuesday, May 16
Team scores - Albany 157; LPGE 157; Cathedral 159; Sauk Centre 163; Litchfield 164; Melrose 168; ; Paynesville 179.
Paynesville scores - Ryan Wall 39; Nathan Glenz 44; Eric Gerding 46; Corey Schmitt 49; Adam Rafferty 50; Mitch Mackedanz 51; Mark Brossard 53; TOTAL: 179.
---