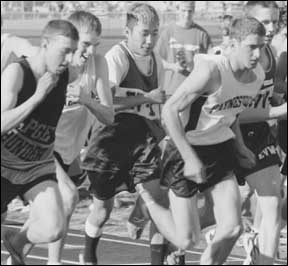 The Bulldogs defended their conference title by winning the conference meet for the second year in a row by 60 points on Thursday. With 10 All Conference performers, the Bulldogs ran away with the meet, scoring even more points than last year.

To earn All Conference recognition, an athlete must place first or second in an event.

Clayton Lang (center, in white) was the conference runner-up in both the 800 and 1600-meter runs, earning All Conference honors in both.

All Conference performances for the Bulldogs in Melrose included the 1,600- and 3,200-meter relay teams. The 3,200-meter relay team took first and the 1,600-meter relay took second. The same four people - Travis Flanders, Eric Korman, Scott Thompson, and Riley Flanders - comprised both relays.

Josh Trees won both the high jump and the triple jump to earn WCC North honors in two events. Andrew Jones took second in the triple jump. Ryan Whitcomb was beaten out of the All Conference honors by his teammates as he took third in the triple jump. Trees also took third in the long jump.

Clayton Lang earned All Conference honors in both the 800- and the 1,600-meter runs. He took second in both with personal best times in both races. Korman took third in the 800 with his personal best time, right behind Lang.

Steve Mages took second in the 300-meter hurdles, earning him All-Conference honors in his first year of track and field. Mages also took third in the high jump.

Nic Glenz won the pole vault competition, with his teammate Troy Fuchs-Thielen taking third. Glenz also took third place in the 200-meter dash.

Dan Pearson earned All Conference honors by placing second in the 3,200-meter run. He was followed by Jesse Rien in third. Pearson also took third place in the 1,600-meter run.

In all the Bulldogs had 34 top eight placings at the conference meet. In seven events, the Bulldogs placed three athletes, including a 1-2-3 finish in the triple jump and 2-3-4 finishes in both the mile and two-mile runs.

The Bulldogs have their sub-section meet on Thursday, May 24, at ACGC High School in Grove City. The meet starts at 2 p.m.

Section competition is next Wednesday, May 30, at St. John's University, starting at noon.

Team scores
1. Paynesville -191
2. St. Cloud Cathedral -131.5
3. Melrose -97.5
4. Litchfield -88
5. LPGE -95
6. Sauk Centre -55
7. Albany -27

Individual Results
110-meter hurdles: Steve Mages, fourth, 15.7; Chad Wyffles, eighth, 18.1;
300-meter hurdles: Mages, second, 43.74; Andrew Jones, fourth, 47.78; Wyffles, fifth, 48.38;
100-meter dash: Josh Trees, fourth, 11.62;
200-meter dash: Nic Glenz, third, 24.13;
400-meter dash: Travis Flanders, fourth, 53.91; Scott Thompson, seventh, 56.92; Tom Flannigan, eighth, 57.68;
800-meter run: Clayton Lang, second, 2:03.4; Eric Korman, third, 2:03.5; Ryan Flanders, sixth, 2:12.4;
1,600-meter run: Clayton Lang, second, 4:32; Dan Pearson, third, 4:44; Ryan Flanders, fourth, 4:52;
3,200-meter run: Pearson, second, 10:14; Jesse Rien, third, 10:19; Utsch, fourth, 11:00;
400-meter relay: Lee Fuchs-Thielen, Glenz, Ryan Whitcomb, Troy Fuchs-Thielen, fourth, 47.4;
800-meter relay: L. Fuchs-Thielen, T. Fuchs-Thielen, Jones, Mages, seventh, 148.5;
1,600-meter relay: T. Flanders, Thompson, Korman, Riley Flanders, second, 3:41.4;
3,200-meter relay: T. Flanders, Korman, Thompson, Riley Flanders, first, 8:40;
Triple jump: Trees, first, 41' 3.5"; Jones, second, 38' 0.75"; Whitcomb, third, 38' 0.5";
Long jump: Trees, third, 19' 0.5"; Whitcomb, sixth, 18' 2.25"; Jones, seventh, 17' 11.5";
High jump: Josh Trees, first, 6'; Mages, third, 5' 8";
Discus: Flint, seventh, 108' 7";
Pole vault: Glenz, first, 11' 6"; T. Fuchs-Thielen, third, 10'.
---
Contact the author at paypress@lkdllink.net • Return to Sports
Home | Marketplace | Community
---