With another runner-up finish in the West Central Conference North last week, the Paynesville girls' track team have placed either first or second in the conference for 12 straight years.

The Paynesville girls' track team had a great meet and finished second in the conference behind the tough Crusaders from St. Cloud Cathedral, who are rated #1 in the state in Class AA and who hosted last week's meet at St. Cloud Apollo High School.

Last year, the Crusaders edged the Bulldogs by a half point for the conference title. This year, the Crusaders prevailed by 50 points.

The Bulldogs had balanced scoring: earning 91 points in the running events and 65 1/3 in the field events. They also scored points in all 18 events.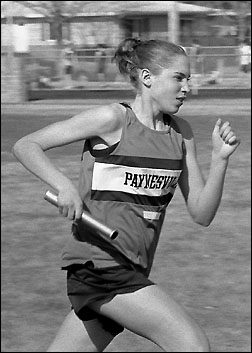 Nine Paynesville girls received All Conference honors by placing either first or second in a relay or individual event. Earning All Conference honors were seniors Jen Berg, Morgan Martinson, and Mandy Mayer; sophomores Kendra Johnson and Brittany Lieser, ninth graders Tara Schmidt and Brooke Schmitz, and eighth graders Tanis Beireis and Kacy Nehowig.
The Bulldogs recorded four first-place finishes and 21 top-five finishes.
The biggest, and best, surprise of the meet was the 1,600 meter relay. The coaches put together a new team just last week. This team - Johnson, Mayer, Schmidt, and Schmitz - finished first by 10 seconds and broke the school record by two seconds.
Other first-place finishes were Schmidt in the 200-meter dash and Martinson in the shot put and in the discus.
Ninth grader Brooke Schmitz ran a leg on the Dogs' record-breaking 1,600-meter relay last week. The new realy team - whose other members are senior Mandy Mayer and sophmores Tara Schmidt and Kendra Johnson - took first in the conference.
Runner-up finishes - also earning All Conference honors - were Johnson in the 300-meter hurdles and in the high jump; Schmitz in the 800-meter run; Lieser in the high jump; Mayer in the triple jump; and the Bulldogs' 3,200-meter relay of Beireis, Berg, Mayer, and Nehowig.
This week, the Bulldogs will host the subsection meet on Wednesday, May 21, starting at 2 p.m. The top two relays and top four individuals will advance to the section meet at St. John's University on Wednesday, May 28, starting at 11 a.m.

Team Scores
1. St. Cloud Cathedral 210 1/3
2. Paynesville 156 1/3
3. LPGE 119 2/3
4. Sauk Centre 83 1/2
5. Albany 71
6. Melrose 41
Individual Results
100-meter hurdles: Kendra Johnson, third, 17.26; Brittany Lieser, seventh, 19.43;
300-meter hurdles: Johnson, second, 49.15; Tanis Beireis, seventh, 53.79;
100-meter dash: Tara Schmidt, fifth, 13.48;
200-meter dash: Schmidt, first, 27.37; Maggie Frieler, seventh, 29.84;
400-meter dash: Mandy Mayer, fourth, 1;05.96; Megan Reeck, eighth, 1:08.8;
800-meter run: Brooke Schmitz, second, 2:28.23; Jen Berg, fifth, 2:36.08;
1,600-meter run: Schmitz, third, 5:31.36;
3,200-meter run: Kacy Nehowig, fourth, 12:04.44; Beireis, seventh, 12:39.88; Sheena Hoekstra, tenth, 14:35.29;
400-meter relay: Kacie Wander, Bari Behling, Frieler, and Jessica Paul, fifth, 55.89;
800-meter relay: Reeck, Behling, Frieler, and Kelly Schultz, fifth, 1:58.74;
1,600-meter relay: Mayer, Schmidt, Johnson, and Schmitz, first, 4:16.77 (new school record);
3,200-meter relay: Berg, Beireis, Mayer, and Nehowig, second, 10:23.01;
Discus: Morgan Martinson, first, 114' 7"; Paul, sixth, 86' 2"; Peggy Thompson, seventh, 85' 3 1/2";
Shot put: Martinson, first, 32' 11"; Paul, fifth, 29' 9"; Lieser, eighth, 27' 10";
High jump: Johnson, second, 4' 10"; Lieser, second, 4' 10"; Kelly Herzberg, eighth, 4' 2";
Long jump: Schmitz, fourth, 14' 3"; Schmidt, ninth, 13' 2";
Triple jump: Mayer, second, 30' 9 1/4"; Tanya Whitcomb, ninth, 28' 1 1/4";f
Pole vault: Paul, fifth, 7' 6"; Lieser, sixth, 7'; Beireis, eighth, 6'.
---
Contact the author at editor@paynesvillepress.com • Return to Sports
Home | Marketplace | Community
---