The Paynesville girls' golf team took second in their last conference meet at Melrose last week and finished third in the conference this spring.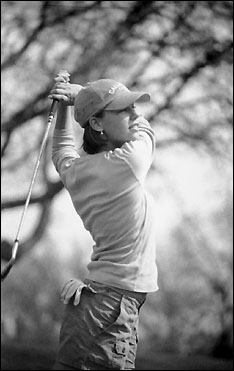 Two players - junior Heather Fuchs and ninth grader Amber Jensen - earned individual All Conference honors this spring.
At Melrose on Monday, May 12, the Bulldogs placed second behind Albany. The Bulldogs edged Sauk Centre by one stroke for second.
Fuchs was second individually with a round of 47, trailing only medalist Lindsey Wellenstein of Albany, who shot a round of 45.
Junior Amanda Glenz was one of 12 players to break 50 with her round of 49. Jensen carded a 50, and junior Brittany Caldwell completed the Dogs' team score with a 51.
Fuchs finished third in the conference in scoring average, and Jensen finished seventh to earn All Conference honors. Fuchs' stroke average in conference play was 47.6. Jensen's was 50.6.
Coach Todd Knudsvig said it was nice to see Fuchs and Jensen rewarded for their hard work. They are some of the hardest workers on the team, he said.
Junior Heather Fuchs shot a 47 at Melrose last week, taking second. She placed third overall individually in the West Central Conference North and earned All Conference honors.
Glenz missed earning All Conference honors by three strokes.
The Bulldogs placed second at the first and last conference meets this year and placed third at the other four.
For the conference standings, teams are given six points for finishing first at a meet, five for second, four for third, three for fourth, two for fifth, and one for sixth. Paynesville placed third overall with 26 points.
The final conference standings were: Albany, 34; Sauk Centre, 30; Paynesville, 26; Cathedral, 15; Melrose, 13; and LPGE, 8.
Hopefully the team will use this finish as a springboard for the subsection meet, said Knudvig. The team competed in the subsection meet on Tuesday, May 20, at 1 p.m.
If the team or any individuals advance, the section meet will be held on Tuesday, May 27, at Rich-Springs Golf Course between Richmond and Cold Spring, starting at 10 a.m.
Team scores
1. Albany 190
2. Paynesville 197
3. Sauk Centre 198
4. Melrose 202
5. St. Cloud Cathedral 209
6. LPGE 228
Individual Results
Paynesville - Heather Fuchs 47; Amanda Glenz 49; Amber Jensen 50; Brittany Caldwell 51; Jena Spaulding 54; Allie Wendroth 75.
---
Contact the author at editor@paynesvillepress.com • Return to Sports
Home | Marketplace | Community
---