Sophomore Mitchell Mackedanz shot a final round of 41 at Albany on Monday, May 12, and earned All Conference honors in golf.

Mackedanz finished tenth in the conference in scoring average this spring, averaging 41.6 strokes per nine holes, and took the last All Conference spot.

Coach Todd Knudsvig said Mackedanz is one of the hardest workers on the golf team, always trying to improve, and that it was nice to see him reap the rewards of all that effort.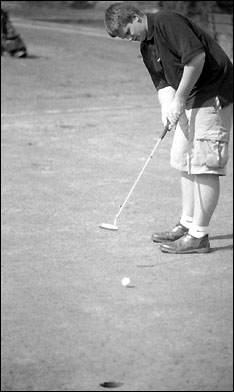 As a team, the Bulldogs finished sixth again at Albany and sixth in the final conference standings.
In addition to Mackedanz, ninth grader Tom Stoneburner shot 44, ninth grader Justin Bork shot 46, and junior Nick Nelson and ninth grader Ross Barten both shot 49s.
Sophmore Mitchell Mackedanz finished tenth in the conference individually, averaging 41.6 strokes per nine holes, and earned All Conference honors.
Knudsvig thought it was promising that the Bulldogs had three ninth graders and a tenth grader comprise their team score.
Albany won their home meet and secured the overall conference title. LPGE was second at the meet and in the season-long standings.
Paynesville finished fifth at one conference meet and finished sixth at the other five meets.
The Bulldogs boys' golf team will compete in the subsection meet at Becker on Wednesday, May 21, starting at 1 p.m. If the team or any individuals advance, sections will be held on Wednesday, May 28, at Rich-Spring Golf Course, between Richmond and Cold Spring, starting at 10 a.m.
Team scores
1. Albany 152
2. LPGE 154
3. Sauk Centre 165
4. St. Cloud Cathedral 175
5. Melrose 175
6. Paynesville 180
Individual Results
Paynesville - Mitchell Mackedanz 41; Tom Stoneburner 44; Justin Bork 46; Ross Barten 49; Nick Nelson 49; Eric Gerding 52; Tony Savage 52.
---
Contact the author at editor@paynesvillepress.com • Return to Sports
Home | Marketplace | Community
---