Bulldogs repeat as conference champions in girls' track
This article submitted by Courtney Karsch on 5/19/99.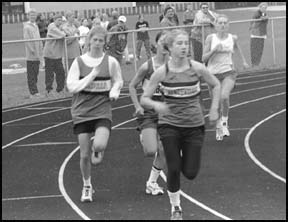 The Paynesville girls' track team repeated as West Central Conference North champions Thursday, winning the title for the second consecutive year!

Team depth and overall team balance were the keys to winning. "We defeated a very strong Long Prairie team by 11 points, and we also had an outstanding effort by our team," said coach Dave Randgaard. "We really needed to do this to win the conference."

Paynesville had three top-eight placings in the 110-meter hurdles, 1,600-meter run, 400-meter dash, and 3,200-meter run. The Bulldogs had two placings in the 100-meter dash, 200-meter dash, 800-meter run, and the high jump, long jump, shot put, and triple jump. That is why the Paynesville girls' track team is the conference champion.

Amber Michaelis scored 30 points for the team with a first, a second, and two thirds. She is just coming off of an injury and still had a great performance.

Jenny Hess is still undefeated in all her races going into the sub-sections. She won the 800-meter run and the 1,600-meter run Thursday.

Tiffany Rausch also repeated as the conference champion in the 200-meter and 400-meter dashes.

There were two relay teams that had their best time of the season with a great performance. One is the 3,200-meter relay with a time of 10:31.12. The members are Carin Frenchick, Danielle Lieser, Amanda Mayer, and Leanne Kolb.

The other relay was the 1,600-meter relay. Their best time of the season was 4:24.42. The members of that relay were Hess, Pyper Garmon, Amy Mueller, and Mayer.

West Central North All-Conference, honors were awarded to the top two finishers in each event. Earning All-Conference honors for Paynesville were: Gina Benson in the high jump; Michaelis in the 300-meter hurdles and in the 110-meter hurdles; Rausch in the 200-meter and the 400-meter dashes; Melissa Bachman in the pole vault, where she also set a new school record, breaking her own record of 8'3"; and Hess in the 800-meter and 1,600-meter runs. Good job, girls!

After the meet was over, the girls gathered together and celebrated their victory of getting first place as a team. Of course, they had to have some fun, so they did that by drenching their coach, Dave Randgaard, with water.

The girls will be trying for their fourth consecutive sub-section title. That would be a feat that has never been accomplished by any team in the sub-section. The main challengers will be ACGC and the home team, New London-Spicer.

"This should really be an exciting meet for the fans to watch. We need support for this meet," said Randgaard.

The meet is on Thursday, starting at 2 p.m. So, come and watch these girls who are ranked #1 in the area.

Team Scores
Paynesville-- 159.5
Long Prairie-- 148.5
Melrose-- 91
Albany-- 91
Sauk Centre-- 84
Litchfield-- 78
St. Cloud Cathedral-- 40

Individual Results
3,200-meter relay: third,10:31.12;
110-meter hurdles: Amber Michaelis, second,17.67; Orbeck, fourth, 18.57; Melissa Bachman, seventh, 18.71;
100-meter dash: Tiffany Rausch, fourth,13.53; Courtney Karsch, sixth, 13.77;
1,600-meter run: Jenny Hess, first, 5:18.15; Erin Aagesen, fifth, 5:58; Amanda Mayer, seventh, 6:08.19;
400-meter relay: sixth, 58.16;
400-meter dash: Rausch, first, 1:01.71; Pyper Garmon, sixth, 1:05.29; Carin Frenchick, eighth, 1:06.58;
300-meter hurdles: Michaelis, first, 50.02;
800-meter run: Hess, first, 2:25.10; Frenchick, fifth, 2:36.36;
200-meter dash: Rausch, first, 26.93; Karsch, sixth, 28.50;
3,200-meter run: Danielle Lieser, third, 12:57.81; Aagesen, fourth, 13:01.56; Jana Zumwalde, eighth, 14:51.29;
1,600-meter relay: second, 4:24.42;
800-meter relay: sixth, 1:59.39;
Long jump: Michaelis, third, 15' 9"; Garmon, eighth, 13' 10.5";
High jump: Gina Benson, second, 5' 0"; Michaelis, third, 4' 10";
Discus: Joy Hemmesch, eighth, 74' 5";
Shot put: Heidi Jansen, fifth, 31' 11.5"; Hemmesch, eighth, 29' 1";
Triple Jump: Bachman, seventh, 30' 7.5"; Benson, eighth, 30' 3.25";
Pole Vault: Bachman, second, 8'6".
---