Boy tracksters take second in conference
This article submitted by Joshua Jones on 5/19/99.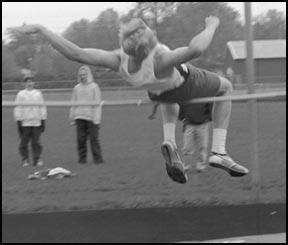 Paynesville hosted the West Central Conference North track meet last Thursday, May 13.

Though there was bad weather all week, Thursday's meet had favorable weather for a track meet.

Five Paynesville boys made the All-Conference team. In order to be All-Conference, you must place first or second in an event.

All-Conference members were Jeff Voss, Josh Jones, Luke Trees, Josh Bork, and Steve Flint.

Jeff Voss placed first in both hurdle races and second in the pole vault.

Josh Jones placed second in both the long jump and the triple jump.

Luke Trees took second in the high jump.

Josh Bork grabbed second place in the discus.

Steve Flint won the shot put with a throw of 44' 9.25".

All competitors did very well at the conference meet and deserve a pat on the back.

Paynesville tried to win the meet but fell short to a very tough Litchfield team, 172-157.

Congratulations on second place and a job well done!

Team scores
1. Litchfield-- 172
2. Paynesville-- 157
3. LPGE-- 99
4. Melrose-- 89
5. Albany-- 81
6. Cathedral-- 77
7. Sauk Centre-- 18

Individual results
110-meter hurdles: Jeff Voss, first, 15.69; Troy Wendlandt, fourth, 16.39;
3,200-meter relay: Paynesville (Andy Jones, Eric Korman, Travis Flanders, and Ryan Flanders), fourth, 9:14.87;
400-meter run: Eric Rausch, fifth, 53.81; Nic Glenz, sixth, 55.24;
3,200-meter run: Clayton Lang, fourth, 10:42.90; Adam Utsch, sixth, 11:09.03;
800-meter run: Travis Flanders, seventh, 2:19.54; Korman, eighth, 2:19.71;
1,600-meter relay: Paynesville (Rausch, Jeremy Bentler, Glenz, Chris Wendlandt), third, 3:47.11;
Pole vault: Voss, second, 10' 6"; Glenz, fifth, 9' 6";
Shot put: Steve Flint, first, 44' 9.25"; Josh Bork, sixth, 38' 9.25";
300-meter hurdles: Voss, first, 41.07; T. Wendlandt, fifth, 46.41;
400-meter relay: Paynesville (Ryan Whitcomb, Scott Thompson, C. Wendlandt, Bentler), fifth, 49.73;
800-meter relay: Paynesville (Whitcomb, Glenz, T. Wendlandt, C. Wendlandt), sixth, 1:40.33;
High jump: Trees, second, 6' 0"; Josh Jones, seventh, 5' 10";
Long jump: Jones, second, 20' 0"; John Brady, third, 18' 7.5"; Trees, fourth, 18' 4.25";
Triple jump: Jones, second, 39' 4.75"; Casey Kavanagh, fifth, 36' 5.75";
Discus : Bork, second, 116' 3.5"; Flint, seventh, 108' 1";
200-meter dash : J. Jones, fifth, 23.75;
1600-meter run : Lang, fourth, 4: 50.58; Utsch, eighth, 5: 03.87;
100-meter dash : Voss, third, 11.84.
---