Lew and Donna Ahrens were named "Fans of the Year" by the Bulldog Booster Club on Friday night at its annual hog roast.

"I was totally shocked. You could have pulled my feet out from under me," said Donna about the surprise award.

Lew and Donna, who will be married for 40 years in September, live on a farm halfway between Lake Henry and Paynesville. Lew is a semi-retired farmer, and Donna is the secretary at the district office.

Lew, a 1959 PHS graduate, participated in basketball in high school because he was only allowed to play one sport, due to his farm chores, and basketball was the only winter sport. Donna (Hemmesch) Ahrens, a 1962 PHS graduate, has lived in the Paynesville area her whole life. In high school, Donna participated in drama and fine arts, because there were no sports for girls then, but became a sports fan watching her seven brothers.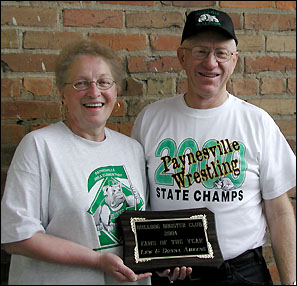 Lew and Donna started attending Bulldog sporting events together in the late 1960s, they estimated. "It started out as good family entertainment," Donna said.
The Ahrens have always liked sports, but they were turned off by professional sports a bit because of the money involved.
Lew and Donna Ahrens were honored on Friday night at the annual Bulldog Booster Club's hog roast as the 2004 Fans of the Year.
Regarding high school sports, Lew said, "When you watch the kids, it comes straight from the heart, win or lose. I even like to watch kids from other towns."
Kids, added Donna, "give 150 percent and they don't get paid a dime."
Lew and Donna's own two children, Tom and Teri, were involved in high school sports at PHS in the 1980s, Tom as the manager of the wrestling team and Teri playing volleyball, basketball, and softball.
After their children finished playing high school sports, Lew and Donna watched their neices and nephews plays sports, including five for Paynesville. In fact, after selling their dairy cows in 1988, Lew had more time to attend sporting events.
Lew and Donna still enjoy watching neighbors and other high school students compete each year.
In the fall, they liked to watch football games and volleyball matches. For many years, Donna volunteered announcing at football and volleyball games (in addition to wrestling meets). Lew served as a spotter for football, and he tried to run the clock for wrestling, their favorite sport, but found that he would often get into the match too much and forget about the clock.
Donna turned in her announcing microphone at the end of the 2002-03 wrestling season. "We are now full-time fans," she said.
Winter is busy because wrestling is the sport that Lew and Donna follow most, attending almost every meet during the season, home or away. This year, the only meet they missed was the tournament at Minneapolis Edison.
While explaining why he likes wrestling so much, Lew said, "The little town of Paynesville can kick the bigger schools' butts."
The Ahrens haven't missed a state wrestling tournament in nearly 35 years. They have gone to state every year that Paynesville has made it to state as a team and even when the Bulldogs just sent an individual. "We must have over 30 years of state wrestling books in a stack at home," Lew said.
Donna has seen every Paynesville wrestler win his state title, and Lew only missed Steve Fuch's title due to a blizzard, because at the time he was still milking cows so he had to come home for chores and could not return to St. Paul and risk getting stranded away from his cows.
This winter, the Ahrens were even busier because they tried to attend home baskeball games to see their neighbors - Amanda Glenz and Adam Kampsen - play on the teams. "If there are four home events during one week, Lew is usually at all of them," Donna said.
According to Lew, Kampsen practiced his pitching grips and showed them to Donna while picking rocks on their farm. "Adam and Josh [Kampsen] used to pick rocks for us. I saw Adam throwing rocks, and Donna just watching him. When I asked her what they were doing, she told me that he was teaching her how to throw a curve ball," Lew said.
In addition to following the Bulldog baseball team in the spring, Lew and Donna follow several area amateur teams. Every Sunday they go to an amateur game somewhere, said Donna.
This is the third year that the Bulldog Booster Club has honored a Fan of the Year. The 2003 Fan of the Year was Elda Mae Krupke, and the 2002 Fan of the Year was Press editor Michael Jacobson.
---
Contact the author at editor@paynesvillepress.com • Return to News Menu
Home | Marketplace | Community
---