The Bulldogs boys' track team placed seventh at an 11-team meet at Benson on Tuesday, May 11.

Lac Qui Parle Valley/Dawson-Boyd won the 11-team meet, edging Montevideo 129-125. Paynesville tied with host Benson/KMS for seventh with 43 points.

The Dogs' top finishes were two thirds. Sophomore Aaron Bachman finished third in the pole vault, and the Dogs' 3,200-meter relay also finished third. That relay was comprised by senior Chad Wyffels, junior Jason Wendroth, junior Matt Mehr, and junior Chris Utsch.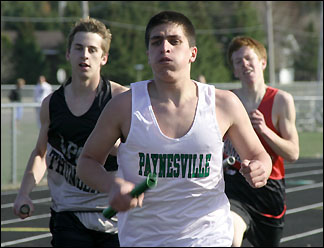 The Dogs had three other top five finishes, including the 1,600-meter relay, comprised by Utsch, ninth grader Bryce Fischbach, Wyffels, and Wendroth. Also placing fifth were senior Lee Fuchs-Thielen in the triple jump and senior Doug Mages in the high jump.
Junior Chris Utsch ran legs on the Bulldogs' 3,200-meter relay, which finished thrid, and its 1,600-meter relay, which finished fifth, at Benson.
This week, the Dogs will compete in the West Central Conference North meet at Long Prairie on Thursday, starting at 3 p.m. "We are looking forward to the conference meet this week," said coach Darrel Carstens. "This will have to be a great team effort for us to be at the top!"
Team Scores
1. LQPV/D-B 129
2. Montevideo 125
3. Morris 97
4. Minnewaska 93
5. New London-Spicer 84
6. Canby 83
7. Paynesville 43
7. Benson/KMS 43
9. Chokio-Alberta/Clinton-Grace 2
10. Hancock 0
11. West Central Area 0
Individual Results
110-meter hurdles: Scott Millner, seventh, 17.0;
300-meter hurdles: Millner, sixth, 45.7;
100-meter dash: No one placed;
200-meter dash: No one placed;
400-meter dash: No one placed;
800-meter run: Chad Wyffels, eighth, 2:17.6;
1,600-meter run: No one placed;
3,200-meter run: Dugan Flanders, seventh;
400-meter relay: Bryce Fischbach, Michael Houske, Travis Flannigan, and Alex Jewell, sixth, 50.2;
800-meter relay: Fischbach, Houske, Flannigan, and Jewell, eighth, 1:49.9;
1,600-meter relay: Chris Utsch, Fischbach, Wyffels, and Jason Wendroth, fifth, 3:59;
3,200-meter relay: Wyffels, Wendroth, Matt Mehr, and Utsch, third, 9:18;
Discus: Derek Burris, seventh, 119';
Shot put: No one placed;
High jump: Doug Mages, fifth, 5' 6";
Long jump: No one placed;
Triple jump: Lee Fuchs-Thielen, fifth, 38' 7";
Pole vault: Aaron Bachman, third, 11'.
---
Contact the author at editor@paynesvillepress.com • Return to Sports
Home | Marketplace | Community
---