The Bulldogs baseball team clobbered St. Cloud Cathedral 7-1 on Tuesday, May 11, sweeping their season series with the defending state Class AA champions.

With the win, the Dogs (6-1) took a two-game lead in the West Central Conference North.

And the Dogs (15-1 overall) are now ranked #1 in the state by the Minnesota Baseball Coaches Association. Cathedral had been ranked #1 but dropped to #8.

Junior Chris Beier pitched a complete game, allowing only four hits and one run, and senior Adam Kampsen led a balanced ten-hit offensive attack with a homer and four RBIs.

Kampsen broke the school record for more homeruns in a season with his two-run shot to left-center in the sixth inning. The blast, into a strong wind, capped the scoring at 7-1. He now has hit 11 homeruns this season, one more than his brother Josh hit last year, which tied the school record of 10 homers set first by Dustin Looman in 1999.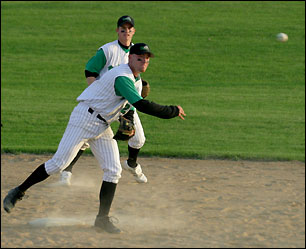 With at least five games to play, Kampsen has a chance to tie or break the state record for homers in a single season. According to records kept by the Minnesota Baseball Coaches Association, the state record for homers in a single season is 14, set by Josh Mathson of Babbitt-Embarrass-Soudan-Tower in 2003.
Senior Adam Kampsen turns one of Paynesville's three double plays against St. Cloud Cathedral last week as sophomore Jamie Paul backs up the play. Kampsen broke the school record by hitting his 11th homerun of the season against Cathedral.
While Kampsen and teammates provided the firepower, Beier kept the Bulldogs in complete command by shutting down the Crusaders. In the first game between the two teams, Paynesville won 13-9 with an offensive barrage, but this time Cathedral really threatened to score only once.
Beier allowed only four hits, three of them, including a solo homer to right, in the second inning. Other than that, Beier allowed only three baserunners: an error in the fifth, a single in the sixth, and a walk in the seventh.
Beier was aided by his infield defense, which turned three groundball double plays. The Dogs turned a 1-6-3 double play to end the second inning, another 1-6-3 double play to erase that leadoff single in the sixth, and a 6-4-3 double play to end the game.
Eight Bulldogs had hits in their balanced attack, with Kampsen and senior Jordan Haag each having two hits. Kampsen had an RBI groundout in the first to give the Dogs an early lead. The Dogs scored an unearned run in the second inning to retake the lead 2-1.
Haag doubled and scored on a two-out RBI single by senior Adam Hemmesch in the third. Sophomore Jamie Paul hit an RBI double to right in the fourth inning, and Kampsen doubled off the top of the fence in right-center to plate Paul. Haag singled again in front of Kampsen in the sixth inning.
The Bulldogs were scheduled to play Melrose, which sits second in the WCC North at 4-3, on Thursday. That game was postponed due to the weather to Monday, May 17, at Melrose. The Bulldogs also hosted LPGE on Tuesday.
The Dogs will play their last conference game on Thursday, when they travel to Sauk Centre.
| | | | | | | |
| --- | --- | --- | --- | --- | --- | --- |
| Paynesville-- | 111 | 202 | x | - 7 | 10 | 2 |
| Cathedral-- | 010 | 000 | 0 | - 1 | 4 | 2 |
Cathedral - Batting: Adam Koopmeiner 1-2 HR; Nick Hengel 1-2; Dan Mueller 1-2; Ben Spaniel 1-2; Pitching: (ip-h-r-er-bb-k) Brian Anderson (L) (6-10-7-5-1-1).
Paynesville - Batting: Adam Kampsen 2-4 2B HR RBI-4; Jordan Haag 2-4 2B R-2; Jamie Paul 1-3 2B R-2 RBI SB; Chris Beier 1-3 R SB; Adam Hemmesch 1-3 RBI; John Hemingson 1-3 R; Justin Butkofski 1-4; Mike Mueller 1-4; Pitching: (ip-h-r-er-bb-k) Beier (W) (7-4-1-1-1-0).
Paynesville 4, ACGC 3
The Bulldogs won their 14th consecutive game, rallying to beat subsection rival ACGC 4-3 on Friday in Paynesville.
The Dogs scored three runs in the fourth inning to tie the game at 3-3 and then scored the winning run in the fifth inning. Junior Justin Butkofski delivered an RBI double on a hit-and-run play in the fifth to score the winning run.
In the fourth inning, trailing 3-0, the Dogs were helped by two ACGC errors. Beier hit a two-run single up the middle to score Paynesville's first two runs, and sophomore Derek Stanger, replacing injured senior Chad Stang in the lineup, doubled to left to tie the score at 3-3.
Kampsen pitched a complete game for the victory over the Falcons (11-4). Last year, the Dogs beat the Falcons for the subsection title, but ACGC avenged that loss by upsetting the Dogs at sections.
Friday's win should help the Dogs in subsection seedings, which will be held on Wednesday, May 19. The Dogs are undefeated in five games against subsection rivals this year.
| | | | | | | |
| --- | --- | --- | --- | --- | --- | --- |
| Paynesville-- | 000 | 310 | x | - 4 | 7 | 1 |
| ACGC-- | 010 | 200 | 0 | - 3 | 6 | 3 |
ACGC - Batting: Micah Nordin 2-3 2B R RBI-2; Brandon Larson 2-3 R; Ryan Mann 1-3 R; Pitching: (ip-h-r-er-bb-k) Luke Wallace (L) (6-7-4-1-1-6).
Paynesville - Batting: Butkofski 2-3 2B RBI R; Beier 1-3 RBI-2 R; Derek Stanger 1-2 2B RBI; Haag 1-3 R; Hemmesch 1-3; Hemingson 1-3; Pitching: (ip-h-r-er-bb-k) Kampsen (W) (7-6-3-3-3-5).
---
Contact the author at editor@paynesvillepress.com • Return to Sports
Home | Marketplace | Community
---