Girls claim sixth track title
This article submitted by Courtney Karsch on 5/17/00.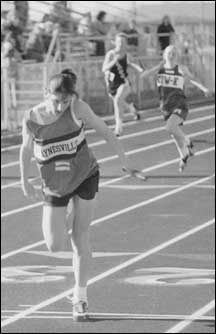 The girls' track team earned their sixth championship of the season with a victory at a seven-team meet in Benson on Tuesday, May 9.

Like every other meet for the Bulldogs, they again had a couple personal bests and also came close to a school record. The team took first in six events.

With the nice weather conditions in Benson, Courtney Karsch ran her second best time of the season in the 100-meter dash. Her time of 13.26 earned her first place.

Tiffany Rausch took first in both the 200- and 400-meter dashes. She ran another great 400-meter race in one minute and two seconds.

In the 200-meter dash, Rausch and Karsch scored 16 points for the team, as Rausch was first place in 27.7 and Karsch was third in 28.5.

Jenny Hess ran the 800- and 1,600-meter races. She ran the 800 instead of her usual 3,200-meter run. She placed first in both the races, and her time of 2:22.8 in the 800 is now the top time in the area.

The last event of the meet is the 1,600-meter relay. On Tuesday, Rausch, Hess, Danielle Lieser, and Carin Frenchick took home the Bulldogs final first place in this relay event. Their time of 4:18.6 missed the school record by only two tenths of a second!

Earlier, the 800-meter relay team had their best performance of the season with a time of 1:58. The team members are Heidi Jansen, Sara Lieser, Mindy Meagher, and Carla Hemmesch. This team hasn't been together long and they really pulled through and had a great performance for third place.

Carla Hemmesch helped the 400-meter relay team to second place and the 800-meter relay team to third.

In the triple jump, Rachel Koehn jumped her personal best with a jump of 30' 1.75". Koehn received third place for her jump.

Another trackster who reached her personal best was Katrina Orbeck in the long jump. Orbeck jumped 14 feet to get fourth place, in a tie with teammate Danielle Lieser.

The girls were supposed to compete at Willmar in a three-team meet on Thursday, but the meet was cancelled due to the weather.

Their next meet is the West Central Conference North Championship on Thursday at St. John's University. "The team is preparing for defending its West Central Conference championship. We will need a great effort to win our third straight conference title," said coach Dave Randgaard.

Team scores
1. Paynesville -139
2. New London-Spicer -107
3. BKMS -101
4. Montevideo -88
5. La Qui Parle Valley -77
6. CACG -29
7. Hancock -17

Individual Results
100-meter hurdles: Katrina Orbeck, sixth, 18.8;
100-meter dash: Courtney Karsch, first, 13.26;
200-meter dash: Tiffany Rausch, first, 27.7; Karsch, third, 28.5;
400-meter dash: Rausch, first, 1:02.2;
800-meter run: Jenny Hess, first, 2:22.8; 1,600-meter run: Hess, first, 5:11;
400-meter relay: Karsch, Heidi Jansen, Joy Hemmesch, Carla Hemmesch, second, 54.1;
800-meter relay: Jansen, Sara Lieser, Mindy Meagher, Carla Hemmesch, third, 1:58;
1,600-meter relay: Rausch, Hess, Danielle Lieser, Carin Frenchick, first, 4:18.6;
3,200-meter relay: Frenchick, Danielle Lieser, Leanne Kolb, Jana Zumwalde, second, 10:49;
Discus: Ashley Wall, fifth, 81' 3"; Morgan Martinson, sixth, 78' 0";
Shot put: Jansen, second, 31'3"; J. Hemmesch, third, 29'6.5"
High jump: Ashley Wall, third, 4' 8";
Long jump: Danielle Lieser, fourth, 14' 0"; Katrina Orbeck, fourth, 14' 0" (personal best);
Triple jump: Rachel Koehn, third, 30' 5.25"; Amanda Mayer, fourth, 30' 1.75"; Danielle Lieser, sixth, 29' 8.75";
Pole vault: Joy Hemmesch, second, 7' 6"; Hannah Braun, fifth, 7' 0".
---