Golfers take fifth in WCC North
This article submitted by Maria Janotta on 5/17/00.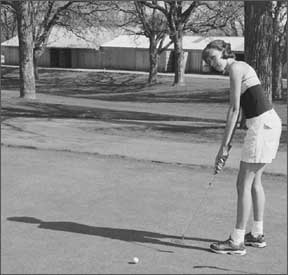 On Tuesday, May 9, the girls traveled to Sauk Centre for the Streeters' annual 18-hole tournament. Sauk Centre's golf course is only a nine hole course so the girls played two rounds.

Staples-Motley won the tournament with a score of 333. A distant second was Litchfield with a 371. A close third place went to Sauk Centre with a 379. Paynesville came in seventh, out of 11 teams, with a score of 435.

No one cracked 100 for the Bulldogs. Maria Janotta led the team with 102, followed by Sally Heitke with 107, Heather Fuchs with 111, Katie Wright (pictured) with 115, and Glenz with 121.

at Sauk Centre, Tuesday, May 9
Team scores- Staples-Motley 333; Litchfield 371; Sauk Centre (A) 379; Minnewaska 408; BBE 421; Benson 424; Paynesville 435; Cathedral 445; LPGE 483; Sauk Centre (B) 465; Melrose 502;
Paynesville scores - Maria Janotta 102; Sally Heitke 107; Heather Fuchs 111; Katie Wright 115; Amanda Glenz 121; TOTAL: 435.

Melrose meet
On Monday, May 8, the Bulldogs traveled to Melrose to play their last conference meet of the year. The girls took fifth place, once again trailing Cathedral by only a few strokes.

Paynesville had 208, while Cathedral totaled 204. Sauk Centre won the meet with a score of 175.

The top scorer for the Bulldogs was eighth grader Heather Fuchs, who shot a 46. Maria Janotta, Amanda Glenz, and Katie Wright came in with 53, 54, and 55 respectively. Erin O'Fallon and Brittany Caldwell both shot a 57, and Sally Heitke had a 63.

at Melrose, Monday, May 8
Team scores- Sauk Centre 175; Albany 181; Litchfield 184; Cathedral 204; Paynesville 208; Melrose 229; LPGE 247.
Paynesville scores - Heather Fuchs 46; Maria Janotta 53; Amanda Glenz 54; Katie Wright 55; Erin O'Fallon 57; Brittany Caldwell 57; Sally Heitke 63; TOTAL: 208.

Litchfield Invite
On Saturday, the Bulldogs were fifth at a tournament in Litchfield.

Heitke and Fuchs led Paynesville with rounds of 50, and Janotta and Wright posted scores of 54. Their team total was 208.

Litchfield won the meet by one stroke over Dassel-Cokato, 192-193.

The Bulldogs will practice all week in preparation for the subsection tournament on Tuesday, May 22, in Kimball.

at Litchfield, Saturday, May 13
Team scores- Litchfield Green 192; Dassel-Cokato 193; Litchfield White 198; St. Michael-Albertville 201; Paynesville 208.
Paynesville scores - Heather Fuchs 50; Sally Heitke 50; Maria Janotta 54; Katie Wright 54; TOTAL: 208.
---