Anglers report slow fishing on cold opener
This article submitted by Michael Jacobson on 5/17/00.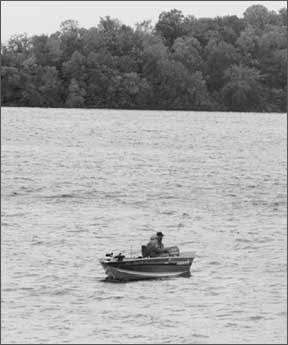 Rain, cold temperatures, and a strong northwest wind made for difficult fishing conditions for the weekend opener.

"From what I saw, it was pretty slow," said Department of Natural Resources officer Chuck Nelson of the weekend's catch. "People I talked to didn't do as well as usual."

Nelson knew of two firsts for this year's opener. He said it was the first time he had seen empty parking spots at public accesses on Lake Koronis and it was the first time that he wore snowmobile bibs on the opening weekend.

On Saturday morning, white caps on Koronis and Rice made fishing difficult. On Rice Lake, a number of boats congregated on the calm side of Cyrilla Beach Point, but getting there from the public access required a trip across the waving bay.

A lone fisherman braves the waves on Lake Koronis Saturday morning.

Three men from the metro area joked that the weather was fine...for an ice fishing opener. They caught a few walleyes on Rice, but said they were nothing to brag about.

Another man and his eight-year-old son spent only an hour on the lake before coming in when the boy got cold.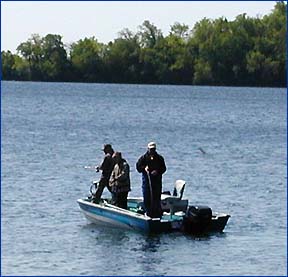 On Koronis, the wind limited the number of peaceful fishing spots, and made reaching those spots difficult. Around noon on Saturday, the parking lot at the Dahlman public access by the five-mile bridge was less than half full.
Nelson spent Saturday on the Horseshoe Chain of Lakes and Sunday on several smaller lakes in the area. He said reports from smaller lakes indicated people did all right, and he said crappies are still biting on Rice Lake.
"The wind kept a lot of people off the lake, I think," said Shawn Evans of Hill Top Stop. Evans said some two-and-a-half to three-pound walleyes were brought into his store. He also reported that fishermen who made it onto the lake said that the Northern Pike were biting.
The main bait sold over the weekend were fat heads, according to Evans, who hoped that the weather will be nicer for the next couple weeks.
---