Wall leads golfers with pair of 41s
This article submitted by Michael Jacobson on 5/17/00.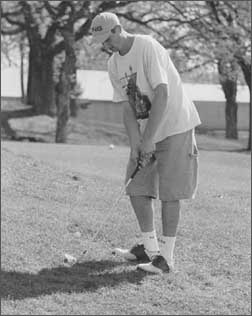 Senior Ryan Wall (pictured) shot a pair of 41s in two West Central Conference North golf meets last week.

The Bulldogs took seventh twice in the WCCN meets at Litchfield and at Koronis Hills Golf Club in Paynesville.

At Koronis Hills on Tuesday, May 9, the Bulldogs trailed Sauk Centre by two and three teams by seven. The BulldogsŐ total of 176 was their second lowest of the season.

Wall, a senior, led with a 41, and sophomore Nathan Glenz had a 43. Sophomore Adam Rafferty shot 45, seventh grader Mitchell Mackedanz shot 47, and junior Corey Schmitt shot 48.

Sophomore Pat Spooner and junior Mark Brossard each shot a 53.

AlbanyŐs Jason Luethmers was the medalist with a 37. Albany edged Cathedral 155-157 for the team championship. The victory tied Albany and Cathedral in the overall conference standings.

A three-way tie for third between Litchfield, LPGE, and Melrose required additional scores. Litchfield took third because their fifth golfer shot 45, and LPGE took fourth because its sixth golfer shot 47.

The team standings at Litchfield on Thursday, May 11, were turned somewhat on end, as Litchfield and Sauk Centre, who normally finish in the bottom half, took second and fourth respectively. Cathedral won with a total of 157 to take the overall conference lead.

The Bulldogs shot 182 as a team. Wall led with 41, and Glenz shot 44. Eric Gerding carded a 48, and Mackedanz had 49.

The Bulldogs will play in the subsection tournament at Kimball on Monday, May 22.

at Paynesville, Tuesday, May 9
Team scores - Albany 155; Cathedral 157; Litchfield 169; LPGE 169; Melrose 169; Sauk Centre 174; Paynesville 176;
Paynesville scores - Ryan Wall 41; Nathan Glenz 43; Adam Rafferty 45; Mitchell Mackedanz 47; Corey Schmitt 48; Mark Brossard 53; Pat Spooner 53; TOTAL: 176.

at Litchfield, Thursday, May 11
Team scores - Cathedral 157; Litchfield 158; Albany 160; Sauk Centre 161; Melrose 163; LPGE 164; Paynesville 182;
Paynesville scores - Ryan Wall 41; Nathan Glenz 44; Eric Gerding 48; Mitchell Mackedanz 49; Adam Rafferty 52; Corey Schmitt 53; David Jones 53; TOTAL: 182.
---