Rangers retire first number
This article submitted by Michael Jacobson on 5/16/01.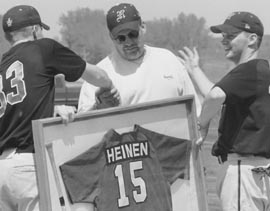 The Roscoe Rangers recognized a long-time player and supporter of the amateur baseball team on Sunday by retiring the uniform of Don Heinen.

Heinen was recognized before Sunday's game against Farming for his 35 years of involvement with the Rangers. A case containing his old #15 jersey and a wood bat from his early playing days was presented to him at home plate by his sons, Greg and Brent Heinen, both of whom currently play for the Rangers.

Heinen's #15 was also unveiled on a baseball-shaped plaque on the fence in left-center at the Roscoe ballpark. The location of the outfield plaque was meant to commemorate the spot for so many of Double Don's long drives.

Don Heinen, who played for the Roscoe Rangers for nearly three decades, had his #15 retired by the team on Sunday. Making the presentation were his sons, Brent (shaking hands) and Greg.

"I thought most of them went to right-center," said Heinen. "That was a long time ago, back when I could run," he added.

Heinen grew up on a farm just east of Roscoe, playing baseball whenever he got a chance after the farm chores. He started suiting up for the Rangers in 1967, before he even began high school, when he was just 14. He started with #5 but soon switched to #15.

He graduated from Paynesville High School, where he played on the high school baseball team, in 1971.

After a few years on the bench, Heinen cracked the Rangers' lineup at third base, and soon moved over to shortstop, where he started for 12 years. A career .300 hitter, he represented Roscoe in 13 Stearns County League All Star Games, said announcer Randy Rothstein during an introduction of Heinen on Sunday.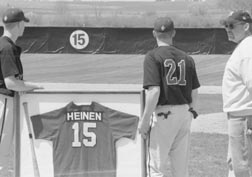 Heinen also was a relief pitcher for the Rangers, and later in his career he moved over to first base. In his career, Heinen Ð who took pride in his fielding Ð played every position except catcher, according to a biography of his baseball career that will be used with his nomination to the Minnesota Baseball Hall of Fame.
Heinen and his sons look at his number 15 in the outfield.
Heinen hit over .340 at least three times, in 1978, 1980, and 1983. Since 1976, he had 26 home runs, 19 doubles, and 92 RBIs in 553 at bats, according to records compiled by Roscoe statistician Art Schlangen. Heinen also had a .959 fielding percentage over the latter half of his career.
Heinen took his last at bat for the Rangers in 1995, 29 years after he first suited up for the team.
Heinen has been an important part of the Rangers off the playing field as well. He has managed the team twice, as a co-manager in 1980-81 and again from 1994-96. He has served as the baseball president several times over the past three decades.
He has been president of the Roscoe Recreation Club for six years (and on the board for 10 years), has been the mayor of Roscoe for two years (after serving on the city council for 16 years), and serves as the public address announcer at the Rangers' home games.
During Heinen's introduction, Rothstein credited him for improvements at the Rangers' park. During the past decade, Rothstein said, Heinen has helped get new fencing installed, more agrilime on the infield, grass growing on the infield, a new scoreboard, new dugout, and new concession stand. Heinen has also done the little things to help the team and the park, Rothstein said, like watering the infield grass before going to work and loaning his own yard equipment to help maintain the park.
Heinen and his wife, Mary, have three children: Greg, Brent, and Kelli. Greg and Brent both play for the Rangers, and Kelli plays for the fast-pitch softball team at Paynes-ville Area High School. Don and Mary became grandparents this winter, as Greg and his wife, Jen, had a baby girl.
Heinen's is the first number retired by Roscoe. If accepted into the Hall of Fame, he would join Schlangen, who was inducted in 1993.
Another local team with retired numbers is the St. Martin Martins, who have retired two Ð #2 for Brent Schmitz and #17 for Ryan Shay. These players were killed in a car accident in May 1996. Brent had been in his third year with the team, and Ryan in his first, said Martins manager Carl Lieser.
Their numbers were retired a week after the accident, and plaques with their numbers adorn the centerfield fence in St. Martin. The team also planted trees to honor the young men behind the Martins' dugout.
---