Elda Mae Krupke was surprised to be honored as the 2003 Fan of the Year by the Bulldog Booster Club, feeling she was rewarded for just being a good grandmother.

Krupke - who has 22 grandchildren including ten that have or are playing sports for Paynesville Area High School - attends lots of sporting events to watch her grandchildren. "I didn't think I'd get honored for it," said Krupke. "I thought that's what grandmas did."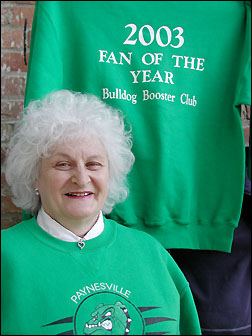 Krupke and her husband Merlin had six children who attended PHS, but they did not get a chance to attend many sports until they quit milking cows. Their daughter Kari played volleyball in high school, and their youngest daughter Tammy played volleyball and basketball and ran track her senior year.
Now Elda Mae and Merlin - even though they still farm about 1,000 acres between Regal and Lake Henry - have their evenings free to attend sporting events.
This year, Elda Mae has watched her grandsons Josh Krupke and Ryan Wendlandt play football, granddaughters Rachael Wendlandt and Kayla Rohe play volleyball and basketball, and Krupke and grandson Matt Rohe play baseball.
One thing that troubles Elda Mae is deciding which athletic event to attend, since she also has grandkids who play for Melrose and BBE. "It's really fun," said Elda Mae. "It's tough to decide where to go when you have so many grandchildren."
Last week, though, it was easy to decide as she watched her grandson Shawn Schoenberg pitch #1-rated Melrose to a victory over the Bulldogs varsity baseball team, where Josh Krupke is a senior centerfielder.
Elda Mae also attended wrestling matches this winter when she could. Since she is a 1955 graduate of Litchfield High School, she admitted her loyalties were split when the Bulldogs wrestled the Dragons this winter.
Her husband, an avid wrestling fan, was particularly pleased this year when their grandson Eric Schoenberg, a sophomore at Melrose, earned an individual state tournament berth, said Elda Mae.
Their grandson Chris Rohe wrestled on a state team for Paynesville in 2001, and their grandsons Pat Rohe and Josh Krupke played on the 2002 Paynesville baseball team that qualified for state for the first time and took fifth place.
No sports were offered for girls when Elda Mae went to high school, but she did play lots of 4-H softball. She has bowled for 43 years now.
This summer, Elda Mae will be following amateur baseball, too. Shawn Schoenberg will play for Spring Hill, and three Rohe boys will play for Regal, where her son-in-law Ken Rohe is the manager.
This is the second year that the Bulldog Booster Club has given a fan award. Last spring, Press editor Michael Jacobson was given an athletic appreciation award.
---
Contact the author at editor@paynesvillepress.com • Return to Sports News Menu
Home | Marketplace | Community
---