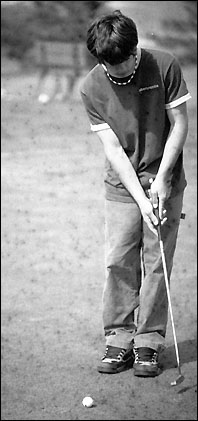 The Bulldogs boys' golf team took sixth place again at a West Central Conference North meet at Long Prairie on Tuesday, May 6.

The Bulldogs recorded a four-man team score of 197, seven strokes behind fifth-place Melrose.

Long Prairie-Grey Eagle won the meet with a total of 157, edging Albany by one stroke. Both teams averaged fewer than 40 strokes per man among their top four scorers.

Ninth grader Tom Stoneburner shot a 48 at Long Prairie last week to tie as the Bulldogs' #2 golfer.

Jeremy Zylla of LPGE and Jacob Overman of Albany tied for medalist honors with rounds of 38.

The Dogs were led by sophomore Mitchell Mackedanz, who shot 46. Senior Eric Gerding and ninth grader Tom Stoneburner shot 48s. Senior Tony Savage, ninth grader Justin Bork, and ninth grader Ross Barten shot 55s.

This week, the Dogs played their last conference meet at Albany on Tuesday. The Dogs will play next at Becker in the subsection tournament on Wednesday, May 21.

Team scores
1. LPGE 157
2. Albany 158
3. Sauk Centre 166
4. St. Cloud Cathedral 178
5. Melrose 190
6. Paynesville 197

Individual Results
Paynesville - Mitchell Mackedanz 46; Eric Gerding 48; Tom Stoneburner 48; Tony Savage 55; Ross Barten 55; Justin Bork 55; Nick Nelson 58. Sauk Centre meet The Bulldogs finished last out of 12 teams at an 18-hole tournament at Sauk Centre on Saturday.

Mackedanz shot 44-41 for an 18-hole total of 85 to lead the Bulldogs. Savage shot 45-49 for a 94, Barten shot 54-45 for a 99, and Gerding shot 55-54 for a 109 to complete the Dogs' team score at the 12-team meet.

Willmar won the 34th annual event that featured all six teams from the West Central Conference North. Chase Thorvold of Willmar shot 73 for medalist honors.

Team scores
1. Willmar 305
2. Litchfield 315
3. LPGE 321
4. Alexandria 326
5. Albany 336
6. New London-Spicer 339
6. Sauk Centre 339
8. St. Cloud Cathedral 370
9. Melrose 365
10. Annandale 370
11. Sauk Centre II 373
12. Paynesville 387

Individual Results
Paynesville - Mitchell Mackedanz 44-41=85; Tony Savage 45-49=94; Ross Barten 54-45=99; Eric Gerding 55-54=109; Josh Tebben 55-65=120.
---
Contact the author at editor@paynesvillepress.com • Return to Sports
Home | Marketplace | Community
---